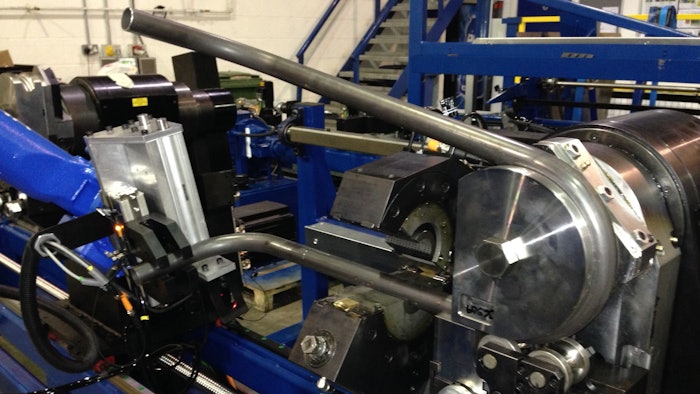 Ingenium Integration
The engineering design consultancy Ingenium Integration has developed a multifunction automated production cell for UK-based wheelbarrow manufacturer H & E Knowles.
The innovative cell will soon speed the production of wheelbarrow frames by eliminating many labor-intensive aspects of production.
It is scheduled to be commissioned in Q2 2016.
According to Dave Ashworth, Ingenium Integration's CEO, "We have developed automated production cells for a number of production processes involving tube bending. The system under construction is the most integrated system we have designed to date – fully automating most of the stages of wheelbarrow frame production, including tube bending, hole punching, swaging and cut-to-length – and is designed for unattended 24/7 operation."
Ingenium Integration bases many of its automated production cell designs around all-electric tube benders from Unison – its parent company.
In this instance, the system being built for H & E Knowles is a 1.5" (38 mm) twin head model from Unison's all-electric Breeze range.
It features a left and right head on the same carriage that facilitates precision symmetrical bending to reduce cycle times with an off-set facility to enable asymmetrical bending of the final tight bend at the wheel end of wheelbarrow frames, while avoiding collision with machine architecture during the process.
The production cell comprises:
A tube bundle loader.
Tube orientation station with seam detection.
Intermediate dual-arm loader.
Bending machine.
Several articulated robotic handlers.
Swaging.
Hole punching.
Cut to length stations.
It fully automates the entire wheelbarrow frame manufacturing process, from raw tube material handling through to final pre-paint finishing and quality inspection.
The cell was developed at Ingenium's design center in Manchester, UK and then manufactured and assembled in a facility at its parent company Unison.
Ingenium is also able to call upon Unison's expertise in all-electric tube bending technology to help solve customer fabrication problems.
The company also holds an integration license for the novel 5-axis parallel kinematic machines (PKMs) developed by the Swedish company Exechon.
These are setting new performance standards in robotics and enable Ingenium to create automation solutions for a diverse array of industrial applications.