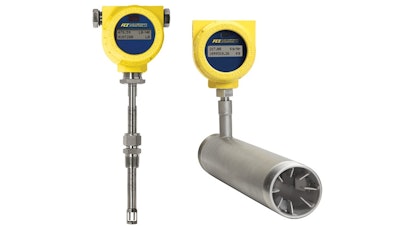 The new models ST51A, ST75A and ST75AV Thermal Mass Flow Meters from Fluid Components International (FCI; San Marcos, CA) provide users with an economical yet rugged solution to measuring air or gases in demanding industrial process and plant applications. The ST51A, ST75A and ST75AV combine all new surface-mount, lead-free RoHS compliant electronics with highly accurate, repeatable, all-welded, equal-mass flow sensors.
The added HART digital bus communication and its associated device driver (DD) have been tested and certified by the Fieldcomm (HART) Group to meet the latest Version 7 standards. With over 30 million supported field instruments installed worldwide, HART technology offers a reliable solution for leveraging benefits of intelligent flow meters and other devices through standardized digital communication.
Specific details for the new models include:
Model ST51A Air/Gas Flow Meter. The ST51A is an insertion-style flow meter for use in pipe diameters from 2.5 to 24 inches [63 to 610 mm]. It is specifically designed for flow measurement of methane-based gases such as biogas, digester gas, landfill gas, natural gas, and for air, compressed air or nitrogen. It is easily connected into the pipe via a 0.5 or 0.75 inch NPT compression fitting. These thermal flow meters measure from 0.3 SFPS to 400 SFPS [0.08 MPS to 122 MPS] with turndown ratio of 100:1 and with accuracy of ±1 percent reading, ±0.5 percent full scale.

Model ST75A and ST75AV Air/Gas Flow Meters. The ST75A and ST75AV flow meters are in-line (spool-piece) style designed for applications in smaller pipe diameters from 0.25 to 2 inches, [6 to 51 mm].

They measure flow rate and totalized flow of air, compressed air, inert gases as well as natural gas, biogas and other hydrocarbon-based gases which makes them ideal for burner-boiler fuel and air lines, industrial furnaces and kilns, chiller air flow metering, and dosing and gas injection.
www.fluidcomponents.com; 800-854-1993