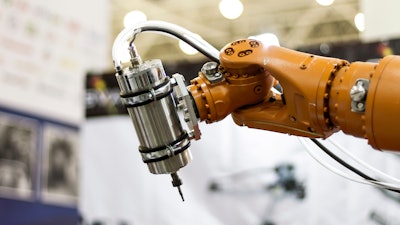 According to the Association for Advancing Automation (A3), a record number of orders for industrial robots were booked in the first half of 2016 – 14,583 units, valued at approximately $817 million – from North American companies.
This represents a growth of two percent over the same period in 2015. Despite this growth, order revenues decreased by three percent in the first half of the year. However, shipment revenues hit a new record, as 13,620 robots valued at $838 million were shipped to North American customers.
Automotive OEMs placed 16 percent more orders for robots than last year. Applications that saw the greatest influx of robotic automation included inspection (69 percent), assembly (38 percent) and spot welding (21 percent).
Component suppliers took second place in the contributor ranking, having increased their orders of industrial robots by four percent. On the flip side, total orders from non-automotive industries collectively decreased by 14 percent. The food and consumer goods industry saw a growth in orders of 41 percent over the same period in 2015.
The Robotic Industries Association, which is part of A3, estimates that around 265,000 robots are now in use inside North American factories, behind only Japan and China.