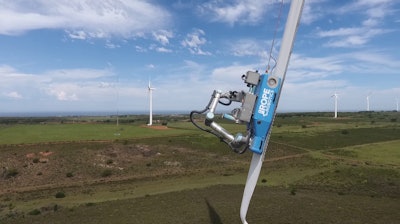 Rope Robotics
Overhead drilling, drywall finishing, and painting ceilings are not applications typically associated with collaborative robots (cobots). After all, cobots were developed with manufacturing applications like machine tending, assembly, welding and palletizing in mind.
Manufacturing is where cobots have proven their effectiveness, ease of use, and ability to help manufacturers adapt to rapidly changing circumstances, from pandemics and product switches to supply chain shocks and labor shortages.
However, by leveraging the ease of use, versatility and small footprint of cobot systems–especially those that provide compatibility with a range of third-party end-effectors and other peripheral tools, today's cobot-powered systems are taking on new applications even in traditionally under-automated sectors, like construction.
This alignment makes perfect sense since cobots are designed to replace dull, dirty and dangerous tasks, and the construction industry still relies on unergonomic, manual labor. Take overhead drilling: this common construction task requires people to take up awkward postures to complete the task effectively and is a known catalyst for occupational shoulder injury. Finding workers to fill these strenuous and repetitive tasks is becoming increasingly difficult. Moreover, manual drilling leads to inconsistent results.
The Hilti Jaibot, a cobot-based construction robot, is one example of an innovative solution to these challenges. Mounted on a mobile platform to easily move around the construction site, this cordless robot uses digital plans to mark and drill holes. It's also designed to be easy to use –even for people with no robotics experience.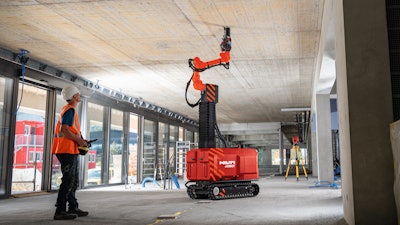 In March, Hilti, which is headquartered in Lichtenstein, announced a strategic partnership with San Francisco-based Canvas. This construction robotics company has developed a cobot-powered drywalling solution that incorporates AI and machine learning, which enables the system to adapt to the exact specifications of each project. Canvas' cobot can also apply both level 4 and level 5 (high-quality skim coat) drywall finishes.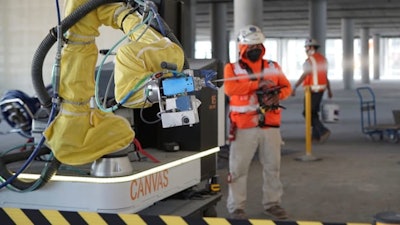 Manually painting ceilings is another good example of a physically demanding, repetitive, and unergonomic construction task within the capabilities of the latest cobot systems. Okibo's "autonomous finishing robot," for example, can handle ceiling painting, coating, plastering, drywall finishing, and other construction-related finishing tasks. The system also ensures consistent, high-quality work, no matter the time of day or night.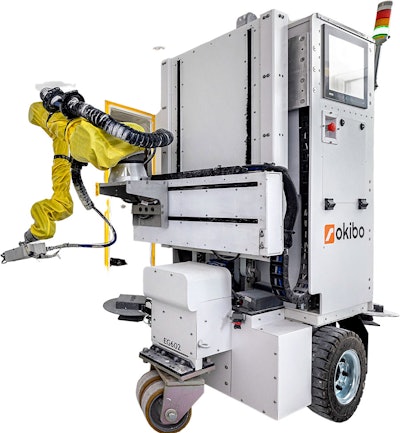 Finally, Rope Robotics is a Danish firm that has developed a system that deploys cobots more than 300 ft high up in the air on the blades of wind turbines.
Dubbed BR-8, the cobot-powered system replaces dangerous manual turbine blade inspection, cleaning and repair tasks and is robust enough to survive the wind speeds and weather conditions experienced in such locations. BR-8, which is operated by a human on the ground, combines a UR cobot, a 3D scanner, a sanding end-effector, a rotating brush for cleaning and tools for dispensing isopropyl alcohol and a final coating of leading edge protection (LEP) paint and filler. The system not only improves safety and increases wind turbine performance, but it achieves ROI in just six months.
The same conditions that inspire cobot adoption in manufacturing are driving demand for cobots in these new frontiers--labor shortages, faster ROI versus traditional industrial automation, ease of deployment, small footprint, and concerns about ergonomics and worker safety.
That said, the construction sector presents a significant challenge for automation because of the unique, highly customized nature of construction projects. The industry requires especially flexible automation that can operate effectively outside the somewhat more predictable and controlled environments found in manufacturing production lines.
Moreover, given the under-automated nature of the construction sector, these challenges require automation that is easy to deploy (and redeploy) regardless of the end user's robot experience.
Exciting times are ahead for the cobot sector, not just in the manufacturing arena but across construction and other sectors. And the projections are excellent: cobots are forecast to see more than 20% year-over-year growth through 2026, according to Interact Analysis, driven by the industry's urgent requirement for flexible, affordable automation.