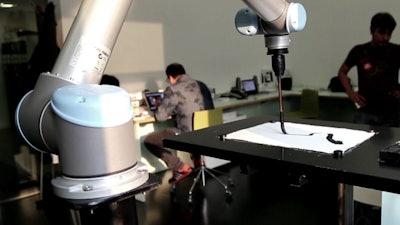 Vimeo, Tiempo BBDO
According to the International Federation of Robotics, nearly 1.3 million industrial robots will enter service in factories around the world by 2018. But manufacturing isn't the only sector benefiting from robotic automation. And these are not your father's robots.
Innovative collaborative robots (often referred to as cobots) are lightweight, flexible, and user-friendly, and their six-axis movement offers nearly unlimited possibilities.
With built-in safety features, they typically work side-by-side with human beings. And with their low cost of entry, easy programming by non-experts, and no need for expensive safety fencing, they offer faster payback—typically less than a year—than nearly any other type of automation.
With so many opportunities to reduce costs, improve business performance, optimize production, increase quality, and drive revenue, it's not really surprising to find cobots showing up some pretty unusual applications. Here are ten of the most unique applications that I have ever seen.
1. Take Two Cobots & Call Me in the Morning
Healthcare service cobots are showing off their best bedside manner, offering much-needed support for physicians, nurses, and other care-givers in stressed healthcare systems around the world.
UR robots are assisting in laparoscopic surgery in Spain, providing rehabilitation support and helping lift bed-ridden patients in Denmark, and even delivering sports massages in Singapore.
Easy programming, flexible deployment, and built-in safety systems make UR technology ideal for these hands-on, quality-of-life services.
2. Lights, Cobot, Action!
At the Rio Olympics, a camera-wielding UR10 cobot joined the press corps, filming swimming and athletic competitions for French television company, FTV.
"The UR10 is the only arm we use because it can carry any camera weighing up to a balanced 8 kilograms. It is perfect for making wide shots, both simple or complex, as the robot is very accurate," said Pascal Gautier, CEO of Universal Robots partner Augmented Robotics (AR+).
The camera mounted on the compact UR10 caught all the action, even in spaces that were too tight for a traditional crane. And in a more refined camera application, UR robots equipped with light projectors and video cameras guided visitors at the Metropolitan Museum of Art in New York City through the gowns shown in the "Charles James: Beyond Fashion" exhibit.
3. A Cobot Like No Udder
Farming is no stranger to automation, but many agriculture-related jobs need a soft touch—especially if they involve livestock. Now cobots are giving dairy operations the advantages of optimized production and increased competiveness.
GNE Farm Equipment is using collaborative UR robots to reduce the labor costs of milking cows, which is helping the company address a decade-long shortage of qualified milkers.
The cobot automates the labor-intensive process of manually disinfecting cows' udders before and after being milked. "No other robot on the market is currently able to offer this ease-of-use system," says owner of GNE Farm Equipment, Gerard Niessink. "Since no specialists are needed for operation, the UR robots results in a faster payback. With the available bank lease programs there is no money out of pocket for the dairy man."
4. Cobots Help Save the Planet
If bees are in danger, so is the rest of the planet. Greenpeace Spain has pushed for a ban on all pesticides that are dangerous to bees and for a commitment to organic farming, but the organization needed 250,00 signatures on its petition to try to make that happen.
In a joint project, Greenpeace and Tiempo BBDO created the motto, "Their future is our future," and set out to get the bees to join forces with their human planet-mates—with 250,000 bee signatures.
Glassworks created custom software to track the movement of bees and convert their flight paths into signatures. UR cobots are used to paint the bees' digital signature to support this planet-saving project.
5. Cobot Co-Pilot
This cobot gives autopilot a whole new meaning. In a DARPA demonstration, a small UR3 cobot shares the cockpit of a Cessna Caravan turbo-prop plane with a human pilot. The collaborative robot arm is part of the Aircrew Labor In-Cockpit Automation System (ALIAS), which also includes a tablet-based user interface with speech recognition and other components such as cameras.
When installed on a plane, the cobot acts as the co-pilot in charge of flying the aircraft. It's part of a government-industry collaboration to help address the shortage of second human pilots. This is one copilot that will never get tired or tell bad jokes.
6. Cushy, Custom, Cobot
Yooshu from 5412 Productions on Vimeo.
Yooshus are the first flip-flops that are custom-made for each foot, and a cobot makes them happen. Customers at a Yooshu kiosk pick their material color, strap style, artwork or text for the sole, and then step up to have their feet laser-scanned in three dimensions.
75,000 data points per foot are communicated to a UR5 cobot, which cuts out the customized flip-flops right in front of the customer, for an exact fit down to one millimeter resolution.
7. Cobot, Straight Up
Mofongo's Distillery and restaurant in Groningen, Holland has a hot new bartender who is changing the definition of straight-up shots. A UR10 robot is mounted on a seven-meter tall Festo linear actuator behind the bar.
A human bartender places three shot glasses in the UR10's gripper and enters which liquors to be dispensed through the robot's touch screen. Then the UR10 swoops straight up—as high as three floors above the bar—to fulfill its mission, quickly identifying the chosen three bottles from 56 different options displayed on the wall.
Once each shot glass has been filled, the robot slides back down to deliver the distilled goods. This new approach to liquor dispensing was such a hit that Mofongo's won the "Best Looking Bar in Holland" award. Stefaan Poppe, managing director of Universal Robots' distributor in Holland, Gibas Automation, says that the robot has been an exceptional draw for the restaurant. "We went there recently for dinner on a Monday night and could not get a table. The rest of Groningen was completely dead but Mofongo's was packed."
8. Cobot Croupier
With this cobot Blackjack dealer, everyone wins. Created for an automation competition in just 48 hours, this UR10 robot arm became a Blackjack dealer that knows when to hold 'em and knows when to fold 'em. It even knows how to pour and serve the winners a shot of their liquor of choice.
9. MasterChef Cobot
Viewers love MasterChef, the BBC's popular cooking competition. So who wouldn't love to have a robotic version of the winning chef in their own kitchen? UK-based Moley Robotics created an autonomous kitchen machine that uses two UR5 robot arms with robot hands to reproduce the movements of a human chef.
A 3D-recording of the cooking process maps every individual motion, allowing the robotic gourmet to prepare a bowl of crab bisque from a recipe by Tim Anderson (a previous MasterChef winner). The UR5 robot arms scrapes butter off a spatula and even wipes the ladle on the side of the saucepan to prevent drips.
10. Ringing in a New Cobot Era
A UR5 cobot became the first non-human to ring the NASDAQ closing bell—ringing in a new era for cobots in nearly any application you can imagine.
The prestigious occasion marked the launch of the ROBO-STOX Global Robotics and Automation Index ETF (Ticker Symbol ROBO), the latest fund to begin trading through Exchange Traded Concepts' accelerated, low-cost, private-label ETF platform.
Frank Tobe, ROBO-STOX co-founder and publisher of The Robot Report, said, "We didn't want to showcase a robot only used in a research lab. We wanted to show viable robotics technology, well-positioned for a future IPO, that is selling and being implemented in a wide range of industries today."
So there you have it—a small sampling of the many fascinating and unusual applications for collaborative robots. Let your imagination fly!