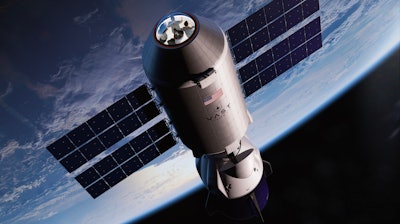 VAST
Vast, a pioneer in space habitation technologies, announced today that it selected Impulse Space, a leader in the development of in-space logistics services, to provide its Haven-1 Space Station propulsion system. Impulse Space and Vast will work closely to integrate the propulsion system as a key subsystem of Haven-1, scheduled to launch on a SpaceX Falcon 9 rocket to low-Earth orbit in August 2025 and is expected to be the world's first commercial space station.
"Impulse Space is excited to work with Vast on a project that will accelerate commercial activity in space," said Tom Mueller, Founder and CEO of Impulse Space. "Our qualified Saiph thruster is a perfect fit for Haven-1's propulsion requirements. We look forward to collaborating with such a dedicated and like-minded team."
The Haven-1 propulsion system, designed and delivered by Impulse Space, will include Reaction Control System (RCS) thrusters to augment resident control moment gyros and deorbit thrusters for end-of-life operations. The Saiph thruster is already qualified and will, by the time Haven-1 launches, have significant flight heritage from multiple LEO missions starting in October 2023.
Additionally, the Haven-1 propulsion system will use a storable non-toxic propellant combination, nitrous oxide and ethane, similar to other space vehicles developed by Impulse and Vast. The propulsion system will also consist of propellant tanks, Saiph thrusters, fluid lines, valves, sensors, control electronics and control software.
"To support our goal to launch Haven-1 in just over two years and become the world's first commercial space station, we decided to partner on multiple subsystems to increase the likelihood of meeting our timeline with full mission success," said Jed McCaleb, founder and CEO of Vast. "We are thrilled that Tom and his team at Impulse Space agreed to provide their Saiph-based propulsion system for Haven-1."
After launch, Haven-1 will serve as an independent crewed space station with four crewed missions planned before connecting as a module to a larger Vast space station currently in development. Following the launch of Haven-1, Vast-1, the first crewed mission to Haven-1 via a SpaceX Dragon spacecraft, will dock with Haven-1 for 30 days while orbiting the Earth.