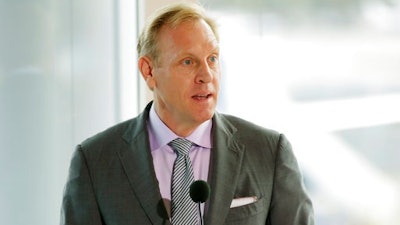 AP Photo/Ted S. Warren, File
WASHINGTON (AP) — The White House announced nominees for six senior Pentagon jobs on Thursday, including a longtime Boeing Co. executive for deputy secretary of defense, moving to fill out Defense Secretary Jim Mattis' new team.
President Donald Trump has struggled to fill top Defense Department positions. Mattis is the only administration nominee to be confirmed at the Pentagon. Until Thursday, the administration had only announced four other nominees; two of those later withdrew. Trump's pick for deputy secretary is Patrick M. Shanahan.
As deputy secretary of defense, Shanahan would succeed Robert Work, a former Marine and Obama administration holdover. Work is the only senior Pentagon official from the prior administration still in place, although others have been performing the duties of senior officials in the absence of Trump nominees.
Shanahan moved up through the management ranks at Boeing over a career that began in 1986. The Puget Sound Business Journal called him a Boeing "fix-it" man in a March 2016 report on Shanahan's promotion to his current position. He oversees the company's global supply chain strategies and use of advanced manufacturing technologies. Shanahan was central to getting the 787 Dreamliner on track after production problems in the program's early years, the report said.
Boeing's website says Shanahan is a member of the company's executive council, reporting directly to the chairman and president, Dennis Mullenburg. Shanahan previously was senior vice president of airplane programs from 2008 to 2016 and vice president and general manager of Boeing Missile Defense Systems. A Washington state native, Shanahan is currently chairman of the University of Washington's Board of Regents. He holds a bachelor of science degree in mechanical engineering from the University of Washington and two advanced degrees from the Massachusetts Institute of Technology.