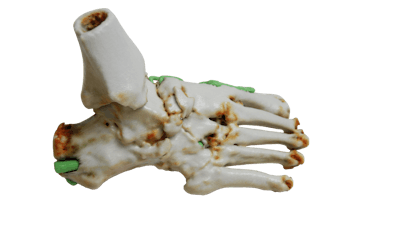 WhiteClouds has launched 3DyourSCAN, a life-size, color-printed, anatomical model of a patient's CT/MRI scan designed to improve collaboration and education between physicians and patients. WhiteClouds anticipates their patent-pending Hinge & Slice feature will provide the most granular, detailed, patient-specific models for surgeons and patients.
Parallel to the development of this technology is a partnership announcement between WhiteClouds and TeraRecon, the leading software provider in advanced visualization. Through this partnership, medical experts will have the ability to print highly-detailed patient models directly from the TeraRecon software, a platform with over 4,000 turnkey installations worldwide.

Medically-related projects make up 15 percent of annual 3D printing industry revenue, according to a recent UPS/Consumer Technology Association (CTA) study. With the 3D printing industry set to value at $21 billion by 2020 (according to the same study), 3D printed medical services and devices are on target to become a bigger and bigger part of the 3D printing landscape moving forward.
Dr. Jay Bishoff, Director of the Intermountain Urological Institute for Intermountain Health Care, sees the technology making "good surgeons into great surgeons." Continues Dr. Bishoff, "These visual models revolutionize the way we perform surgery by providing insight that even the trained eye could not have seen before."
WhiteClouds' proprietary 3D-as-a-Service platform offers the largest full-color production capacity with the ability to produce models more quickly than any other provider. "If you put a 3D model of a patient in the hands of a surgeon, they immediately realize the value. It helps in the education of patient and family, training of residents and fellows, and planning surgical approaches. It is the ultimate in patient-specific imaging," said Dr. Edward P Quigley III MD Ph.D. from the University of Utah Radiology, Advanced Visualization and 3D Printing team (Drs. Shah, Cramer, Hutchins, Quigley, and Wiggins.)