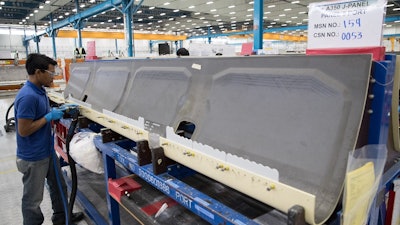 Airbus
Manufacture of parts for the first of six new Airbus A350-900s for Malaysia Airlines Berhad (MAB) has begun around the world, including in Malaysia.
CTRM and Spirits Aerosystems, two of Airbus' Malaysia-based industrial partners, have begun producing components for the aircraft at their plants in Melaka and Subang, respectively.
Airbus A350 XWB work at CTRM and Spirit Aerosystems includes the manufacture of components for wings and engine nacelles.
Powered by two Rolls Royce Trent XWB engines, MAB's six new A350-900s will be acquired on lease from Air Lease Corporation (ALC) and will be delivered between the fourth quarter of 2017 and the second quarter of 2018.
The airline will operate the aircraft on its premium routes with a luxurious three class layout.
The A350 XWB is the newest member of Airbus' modern, comfortable & efficient widebody product family. It features the latest aerodynamic design, carbon fiber fuselage and wings, plus new fuel-efficient Rolls-Royce Trent XWB engines.
Together, these latest technologies translate into levels of operational efficiency, with a 25 percent reduction in fuel burn and emissions, and significantly lower maintenance costs.
To date, Airbus has recorded a total of 810 firm orders for the A350 XWB from 43 customers worldwide.