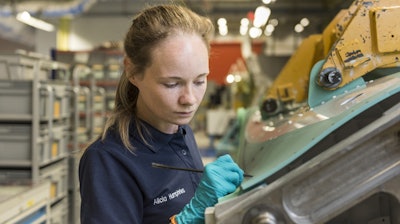 BAE Systems
The pilot of a new 12-month employer-led program for business professionals beginning in January 2017 will focus on raising productivity in the UK's advanced manufacturing sector.
Delivered, co-designed and part-funded by BAE Systems, Siemens, Rolls Royce, Lancashire Enterprise Partnership and Lancaster University, the 'Productivity through People' program will support leaders of advanced manufacturing small and medium-sized enterprises, (SMEs) in understanding the link between employee engagement, modern working practices and improved productivity.
The unique construct of the program will encourage the 24 delegates to translate their learning into practical improvements for their businesses. Held at business locations and the University, the program will showcase world-class manufacturing techniques used by BAE Systems, Siemens and Rolls Royce and participating Companies and offer coaching, peer support, experiential visits to businesses and on-line resources with academic content delivered by Lancaster University Management School.
The aim is to create a network of like-minded and supportive peers – a proven element within many successful business support program.
Raising productivity is key for all businesses, but since the 2008 financial crash, UK levels of productivity like much of the advanced world, have fallen to low levels.
In the eight years since the start of recession, productivity growth has seen a slowdown close to a stop, with only some recent, stuttering, signs of recovery.
By the end of 2015, productivity was 14 percent lower than where it would have been had growth continued at the rate the UK had grown used to in the preceding decade.
The theory and practice covered in the 'Productivity through People' course is a result of a pan-UK productivity project supported by Government and seven different business groups. The Better Workplace Practices group led by Nigel Whitehead, Group Managing Director of BAE Systems with the assistance of the Trade Union Congress among others, looked at the power of employee engagement in achieving lasting productivity gains in the advanced manufacturing sector.
Nigel Whitehead announced the new program during a masterclass on the learnings of the Better Workplace Group which was given to a 100-strong business audience at Lancaster University Management School on October 20, 2016.
"We look forward to sharing our experience with business leaders," Whitehead said. "I believe it's not simply that people are our best asset – ultimately, they are any organisation's only asset. Engaging employees in the mission and purpose of the company, and really empowering them to do the job as effectively as possible, lies at the heart of successful organisations and sustainable business success."
"The advanced manufacturing sector is absolutely critical to the economic prosperity of North West England," added Ian Gordon, director of executive education at Lancaster University Management School. "We have some of the world's finest advanced manufacturing and engineering companies based here, which export products across the globe. However, low productivity is well recognized as a threat to all businesses, and this extremely good value program, which is based on our long-track and successful record of supporting SMEs, provides targeted support to the region's advanced manufacturing supply chain companies that will help raise productivity and business growth."