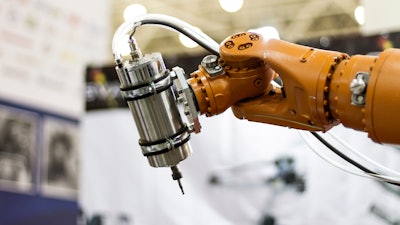 Robot orders and shipments in North America set new records in the first nine months of 2016, according to Robotic Industries Association (RIA), the industry's trade group.
A total of 23,985 robots valued at $1.3 billion were ordered from North American companies in the first nine months of 2016, an increase of seven percent in units and three percent in dollars over the same period in 2015, which held the previous record. Robot shipments to North American customers through September totaled 22,050 robots valued at $1.3 billion, breaking the previous record set in 2015 by three percent in units and 11 percent in dollars.
The record sales levels were driven primarily by strong growth in demand from automotive OEMs and component suppliers. Robot orders from these two sectors were up 14 percent through September. Outside of automotive, robots ordered into the food and consumer goods industry increased substantially by 40 percent year over year. RIA estimates that some 269,000 robots are now at use in North American factories, which is third to only Japan and China.