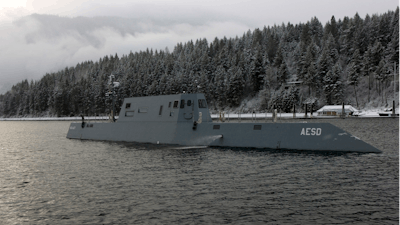 BATH, Maine (AP) — The stealthy Zumwalt destroyer is now property of the U.S. Navy. Sailors can begin moving aboard the 610-foot destroyer after the Navy assumed ownership Friday after signing off on extensive inspections, tests and builder sea trials.
Rear Adm. James Downey, program manager, called it "a significant achievement" both for the Navy and the shipbuilding team led by Bath Iron Works. The ship will be commissioned in the fall. "What we deliver today is more than a tool. It's more than a capability. It's a promise of protection and an assurance in a long-standing tradition of maritime power," he said.
The futuristic-looking Zumwalt is the largest and most technologically sophisticated destroyer ever built for the U.S. Navy. It's also the most expensive. The Navy's latest budget submission suggests the cost of the first-in-class ship will be at least $4.5 billion.
The destroyer features an angular shape to minimize its radar signature, new guns to boost the Navy's land attack capability, and a hull designed for sustained operations close to shore. Thanks to unprecedented automation, it'll have a crew that's nearly half the size of the complement on existing destroyers.
It's named after the late Adm. Elmo "Bud" Zumwalt, who earned the Bronze Star in World War II and commanded small boats that patrolled the Mekong Delta in Vietnam. He later became the youngest chief of naval operations and earned a reputation as a reformer who fought racism and sexism. He promoted the first female and African-American officers to admirals and opened the door for women to become naval aviators and serve on warships. He died at age 79 in 2000.