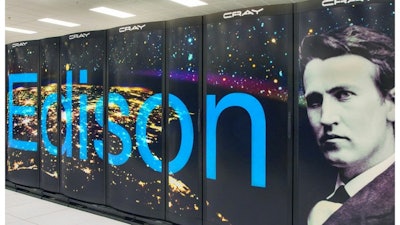 NERSC
The Energy Department today announced up to $3 million in available funding for manufacturers to use high-performance computing resources at the Department's national laboratories to tackle major manufacturing challenges.
The High Performance Computing for Manufacturing (HPC4Mfg) program leverages supercomputers at our national labs to accelerate advanced clean energy technologies and energy-efficient solutions that improve our nation's economic competitiveness in manufacturing. This effort also advances President Obama's National Strategic Computing Initiative, unveiled in July 2015, which calls for public-private partnerships to increase industrial adoption of high-performance computing.
"Access to supercomputers in the Department of Energy's labs will provide a resource to American firms inventing and building clean energy technologies right here at home that no international competitor can match," said Assistant Secretary for Energy Efficiency and Renewable Energy David Danielson. "The HPC4Mfg initiative pairs leading clean energy technology companies with the world-class computing tools and expertise at our national labs to drive down the cost of materials and streamline manufacturing processes. The ultimate goal of their collaboration is to increase our global competitiveness in the race to develop clean energy technology and jobs."
The HPC4Mfg program provides high performance computing (HPC) expertise and resources to the manufacturing sector to lower the risk of HPC adoption and broaden its use to support advanced clean energy manufacturing. The selected projects will leverage the national labs' high-performance computing capabilities to apply modeling, simulation, and data analysis to address manufacturing challenges that will aid in decision-making, optimize processes and design, improve quality, predict performance and failure, quicken or eliminate testing, and/or shorten the time of adoption of new technologies.
The Energy Department plans to select 8-10 projects for this second round of funding and seeks qualified industry partners to participate in short-term, collaborative projects. Selected projects will receive up to $300,000 to support access to supercomputers and experts at the partnering national labs, which include Lawrence Livermore (LLNL), Lawrence Berkeley, and Oak Ridge National Laboratories.
Applications are due by April 21, 2016.
View the solicitation call and submission instructions here.
The HPC4Mfg program currently supports 15 projects that range from improved turbine blades for aircraft engines and reduced heat loss in electronics to improved fiberglass production. Each have each been awarded up to $300,000 for a total of nearly $4.5 million.
LLNL established HPC4Mfg in March 2015, launched four "seedling" projects, and put in place a formal governance model. Lawrence Berkeley and Oak Ridge National Laboratories joined in September 2015 to support the first round solicitation, which was originally announced by Danielson at the American Energy and Manufacturing Competitiveness Summit in Washington, D.C. that month. The Energy Department recently announced the projects selected for the first round.
The Advanced Manufacturing Office within the Department's Office of Energy Efficiency and Renewable Energy created and funds this program. The HPC4Mfg projects also support the Energy Department's broader Clean Energy Manufacturing Initiative to increase U.S. competitiveness through manufacturing clean energy technologies, boosting energy productivity, and leveraging low-cost domestic energy resources and feedstocks.
As the HPC4Mfg program continues, it is anticipated that there will be two rounds of proposals sought each year, one in the spring and the other in the fall.