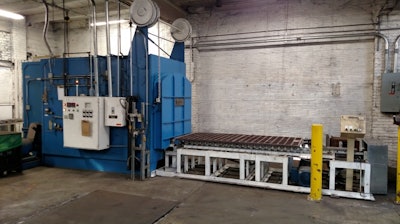 DOE
The Energy Department's State Energy Program (SEP) has helped many states build industrial efficiency.
In Ohio, a state that ranks fourth among the states in manufacturing GDP and leads the nation in production of plastics and rubber, fabricated metals, and electrical equipment and appliances, SEP has been supporting the Energy Efficiency Program for Manufacturers (EEPM) since 2007.
EEPM, launched in 2002, implements cost-effective retrofits at industrial facilities. According to the Ohio Development Services Agency, since 2010 the program has sparked private investment of more than $29 million in Ohio's manufacturing sector, producing a combined annual savings of 1 billion cubic feet of natural gas and 255,109 megawatt hours of electricity, as well as more than $13 million in annual energy cost savings. In 2013, EEPM won the Midwest Energy Efficiency Alliance's Inspiring Efficiency Through Innovation Award.
Kowalski Heat Treating (KHT) of Cleveland, a family-owned industry founded in 1975, used EEPM to retrofit its aging electric furnaces and capture waste heat from heat-treated parts. KHT President Stephen Kowalski said the low-interest loan obtained through EEPM was the difference between laying off employees and creating jobs.
According to the Ohio Development Services Agency, KHT estimates that it has already saved more than 360,000 kilowatt hours of electricity and $38,000 annually due to the efficiency improvements through EEPM.
The Energy Department's Advanced Manufacturing Office created the High Performance Computing for Manufacturing (HPC4Mfg) program in March 2015. The program, led by Lawrence Livermore National Laboratory, in partnership with Lawrence Berkeley National Laboratory and Oak Ridge National Laboratory, uses world-class supercomputers to study industrial energy consumption and help manufacturers across the country become more efficient, productive, and competitive.
Manufacturing is a key driver of U.S. economic growth, providing good-paying middle class jobs. More than 12 million Americans work directly in manufacturing. The sector is also critical for innovation; manufacturers perform more than three-quarters of the nation's private sector research and development.
According to the Bureau of Labor Statistics, the economy added 28,000 manufacturing jobs in February. To maintain this momentum, manufacturers can advance industrial energy efficiency, reducing the energy intensity of their production processes and raising competitiveness. Lower energy costs can make the difference between closing a plant and keeping it online, and many Rust Belt communities rely on their manufacturing base.
Industry leaders and state and local policymakers can find helpful resources for manufacturing and industrial energy efficiency at the Energy Department's State and Local Solution Center. Among other resources, the Solution Center has a guide to the basics of Combined Heat and Power, which is a common pathway to industrial energy efficiency.
The U.S. manufacturing sector can thrive with the aid of energy efficiency solutions.