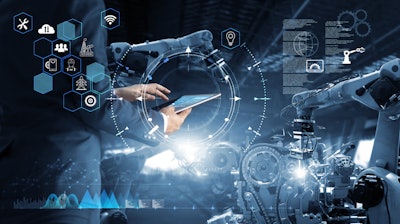 The impact of COVID-19 continues to challenge manufacturers with sudden work remote policies, extreme demand swings, unexpected supply disruptions, new health safety procedures and other factors. In this rapidly changing environment, the importance of digital manufacturing has increased as manufacturers scramble to maintain business continuity while anticipating and reacting to seemingly never-ending disruption to their businesses.
Digital manufacturing can be considered a fully integrated approach to planning, scheduling, quality, cost management, material movement and shop floor control. It allows manufacturers to leverage digital and advanced technologies to better communicate, analyze and use real-time information to meet cost, quality, production and other performance objectives.
As manufacturers advance through digital transformation, many first look to ERP providers to leverage new technologies like robotic process automation (RPA), machine learning, digital twins and others to more rapidly adapt to change and innovate for competitive advantages.
With the pace of change accelerating worldwide, speed and responsiveness is everything. The ability to recognize business disruption, pivot quickly and turn that disruption into a competitive advantage is crucial. The importance of digital capabilities in mitigating abrupt business change has been accepted for years.
For example, manufacturers have relied on ERP solutions as a digital foundation for quite some time, and they know the extensive role ERP plays in addressing business changes like mergers, acquisitions, globalization, port strikes and other events. But, in today's pandemic environment, companies are realizing the extensive role ERP and digital transformation plays in maintaining global manufacturing operations.
The current pandemic-related spikes and shortages are a harsh reminder that when a market disruption occurs, connectivity with and visibility into customers, suppliers, carriers and other trading partners matter more than ever. While the coronavirus is the most widespread and impactful business disruption manufacturers have recently experienced,, leaders consistently prepare for unplanned events like labor shortages, natural disasters, geopolitical issues and other events.
Increasingly, we see manufacturers placing less emphasis on cost savings and more importance on digital connectivity, agility and collaboration. In an era of constant disruption, manufacturers need to start thinking about ways to effectively boost digitalization and confidence that their ERP can meet next-generation requirements – if they have not already started.
While the adoption of digital technologies varies from company to company, many manufacturers are implementing or reviewing new technologies they hope will boost operational connectivity, flexibility and responsiveness. Pragmatic manufacturers begin with smaller prototype projects like employing some form of machine learning to improve forecast accuracy, IoT techniques to increase shipment visibility, or advanced analytics to enhance decision-making.
Only to the extent that advanced technologies make a meaningful impact on performance, can manufacturers fully support the investment. As a result, manufacturers must decide which new technologies can provide competitive advantages for their business. Let's consider just four areas where manufacturing ERP and digital transformation can stimulate operational efficiencies and business agility.
Boost Demand and Supply Chain Planning
Many situations other than COVID can affect future product demand and supply planning including seasonal trends, customer buying patterns, unexpected weather events and competitive product innovation. Historically, many manufacturing firms have created forecasting and planning processes that rely on information that includes outdated demand patterns.
In the era of digital transformation, it's essential that firms can access real-time customer behavior, which can illuminate changing patterns and be used by management to adjust supply chain responses in accordance with customer expectations. With the digital technology available today, along with quicker access to real-time information, more precise demand tracking and monitoring can allow for appropriate and timely supply chain adjustments to better meet customer demands and lower inventory levels.
Increase Supplier Collaboration
Improved connectivity and collaboration with raw materials, transportation, packaging and other suppliers can help to maximize supply chain performance. According to BDO's Benchmarking Survey, "Real-time transparency can help companies more proactively identify specific areas of risk early on, or more quickly notice and respond to disruption that occurs."
Quicker access to possible supply chain disruptions can determine critical component availability for operations and product availability matching customer demand. Additionally, supplier relationships can be intelligently strengthened by digitally collecting and sharing information like inventory availability, quality standards, regulatory requirements and shipment status. Real-time data access and transparency allow supply trading partners to gain decision insights, collaboration and analytics resulting in greater agility to respond to uncertainties and disruptions involving suppliers.
Tighten Shop Floor Connectivity
Manufacturing organizations continuously complain about the lack of information between the shop floor and planning activities. Direct connections to production equipment and simplified shop floor data capture result in the influx of live production status for operators. As collaboration increases, manufacturers improve production decision-making, reduce inventory levels, increase customer responsiveness and boost enterprise agility.