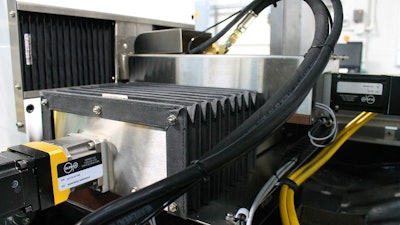 Glebar
In 1952, Miner Gleason and Robert Barhorst founded Glebar Company, manufacturers of centerless grinders, located in Franklin Lakes, New Jersey. Their claim to fame in the fifties was the introduction of the first compact centerless plunge grinder. Today, the company still innovates and manufactures high precision centerless grinding solutions with a small footprint – still in the United States – still in New Jersey.
At IMTS 2016, held in Chicago, the company displayed some of its latest enhancements for centerless grinding, with turnkey automation integration (see photos in gallery). The technology addresses the increasing demand to improve daily productivity, while reducing costs and operating footprint.
The company serves the medical, automotive, aerospace and consumer goods markets, building machines that grind and gauge high precision parts ranging from lightweight aerospace fasteners to micron-thin medical guidewires and arthroscopic shaver components.
"We are constantly working to set new industry standards with our automation capability and integration of our processes into our offerings," says Glebar CEO Adam Cook. "Engineers need to work smarter and harder to stay ahead of the curve and our innovations are designed to help them reach these goals … Every day at our Ramsey, NJ facility, our talented team continues to rise to the challenge to manufacture our innovation."
Automation & Process Optimization
Since Gleason and Barhorst founded the company, Glebar has been at the forefront of optimizing processes to drive the highest levels of efficiency and quality for its customers. Built from standard modular machine platforms, the company has nearly 2,000 machines installed across the globe, each uniquely configured to meet customers' specific needs and applications.
"[Our] solutions are not only about replacing old machines with new ones, it's about enhancing processes to help customers achieve their goals," says President John Bannayan. "Our modular platforms allow us the versatility to configure solutions beyond the grinding operation. We review pre- and post-processes, including inspection and data acquisition, holistically to provide our customers the ability of doing more with less. Our latest generation of the GT-610 CNC Centerless Thrufeed/Infeed Centerless Grinder can be fitted with robots, gantries, cleaning and drying stations and vision- or laser-based inspection systems, providing a virtually hands-off, turnkey solution for high production grinding applications – all of this done on a smaller footprint than our competitors. We customize our touch screen HMI software based on the customer's needs, providing a simple user interface which is extremely intuitive and requires very little training to operate."
High Output Grinders
According to Bannayan, Glebar's engineers have always been at the forefront of the centerless grinding industry as it relates to materials processed. The company can achieve very precise tolerances and increased throughput in large part due to our continual push to improve setup and changeover processes, as well as develop technologies that can be integrated into new systems.
For example, the company has designed a patent-pending lateral work rest blade, an auto-CNC dressing system with feedback from a P4K gauge (a wheel dress profile correction) and a new quick change gripper assembly.
"Attached to an overhead gantry system, the quick-change gripper allows operators in a lean cell the ability to changeover between part configurations rapidly," Bannayan adds.
Glebar's GT-610 CNC 10" work wheel machine offers a twin grip spindle designed for high production. The GT-610 CNC's 12" work wheel option with cantilevered spindle design also gives the company a competitive advantage when it comes to rapid change over time. Bannayan states, "Our competitors' much larger machines often require the need for a large crane to change the grinding wheel, both of our CNC versions do not."
The GT-610 CNC also incorporates a patent-pending controlled motorized work rest blade option that adjusts the lateral position of the parts (when grinding), which is ideal when trying to grind the tip of a shaver or to grind the radius underneath the head of a flush head fastener for example.
More Than Grinding
Glebar also manufactures the aforementioned P4K high precision inspection system, which is one of the fastest and most accurate profile metrology system. Measuring length and diameter points on a profile every 1 micron, at a high scan rate, the system exceeds gage R&R requirements.
This system can be connected to many GT-610 CNC machines through an Ethernet port. The system's optical micrometer technology scans geometric profiles for all parts in a cycle (when grinding multiple components per cycle), and automatically corrects the wheel dress shape.
All of this is done at up to three inches per second (75mm/sec) to produce a rich measurement dataset which can be used to provide go/no go results, log the results to a database including a network based SQL server and provide complete measurement traceability in a simple operator system.
Industrial Internet-of-Things
Industrial internet of things (IIoT) is the buzzword these days, but Open Platform Communication (OPC) that interfaces with supervisory plant systems has always been a part of the company's mission to critical operational statistics.
However, this fall, the company started integrating MTConnect capabilities into its machines and systems. MTConnect provides connectivity as well as the ability to monitor and harvest data from the entire production floor: machines, cells, devices, and processes.
With this new capability, users can execute a complete digital integration of their factory floor to improve operational efficiency using the IIOT.
While IIoT may not have been top of mind for Gleason and Barhorst when they founded the company, their guiding principles and commitment to innovating and manufacturing in the United States has transcended generations.