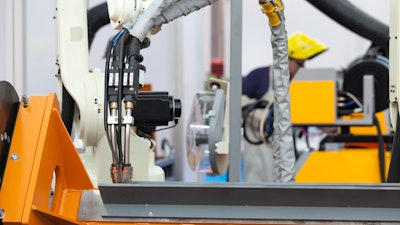 According to industry research, the global market for machine vision components, including cameras, frame grabbers, lighting, software and hardware, will grow from $9.0 billion (USD) in 2016 to $12.50 billion by 2020.
Machine vision plays a vital role in factory automation, and has extended its scope to the fields of security, entertainment, agriculture and healthcare. While machine vision was once considered merely a replacement for human vision, today it is recognized as a driver for quality and productivity with the capability to capture multi-dimensional, non-visible information down to the micron.
I have identified the top five machine vision trends that integrators and OEMs should factor into their strategic planning for 2017. Vision professionals should look to make deliberate decisions about them during the coming year.
1. The Industrial Internet of Things (IIoT)
As IIoT gains traction, machine vision should see a dramatic boost. IIoT links production technology with information technology, therefore it involves extensive data capture and analytics to continually optimize the operation of factories.
Machine vision is one of the most important basic technologies to supply IIoT with information. Manufacturing's rapid adaption of IIoT has led to a renaissance in robotics and the renewed need for machine vision.
IIoT has upped the ante on how humans and robots will collaborate together, but none of this can occur without the expanded use of vision technologies connecting devices, robots and humans. Everywhere. All the time.
2. CoaXPress (CXP)
CoaXPress is an asymmetric high-speed serial communication standard that transmits and receives data over coaxial cables between cameras to computers via a frame grabber.
A new generation of lower-priced CXP single-link cameras featuring smaller footprints, lower power requirements and producing less heat are lowering the barrier for integrators to design systems based on the CXP interface.
CXP moves at speeds that would humble an Olympic track star; it is almost twice the real world data rate of the USB3 Vision standard and significantly quicker than the latest GigE Vision data rates.
My employer, BitFlow, which has been developing industrial frame grabbers for machine vision since 1993, recently introduced its Aon CXP frame grabbers specifically to address this new low cost/high performance market.
3. Non-industrial Sectors
Lower costs and ongoing improvements in vision components, such as 3-D color cameras and machine learning techniques, will further expand the machine vision sector into non-industrial niche applications, such as "driverless" car systems, IP video surveillance, intelligent traffic systems, logistics, agriculture and guided surgery.
Once considered too delicate for use anywhere but in environmentally controlled indoor areas, machine vision components today have been hardened for highly demanding outdoor applications.
One real-world example is the deployment of 3D color cameras to inspect the undercarriage and sides of railcars as a train passes by, thus eliminating the need for the cars to be taken out of service and removed to a maintenance center for inspection. By being contained within rugged scannerboxs, the 3D cameras are protected against dirt, dust and water. This innovative system provides maintenance crews with precise stereoscopic 3D images, detecting various potential faults on couplings, hoses, pressure tanks and wheels, as well as locating loose screws that would otherwise remain unnoticed on a standard 2D-image.
Another example is the use of machine vision aided drones that would allow farmers to visually evaluate crop issues like pests, disease, and weather without the need to visit far-off fields.
4. Ease of Use
Operators of machine vision systems have expressed a clear preference towards products that contribute to a more user-friendly, intuitive environment on the plant floor. At the same time, vision sensory input is more complex than ever before, making it a huge challenge for device and software designers to simplify their interface.
Standardization of products will help users integrate and run vision systems while also providing cost trade-offs for exchangeability of devices. In addition, software designers will be successful as they make strides towards interfaces that walk users through a simple process of setting up applications, locating and inspecting parts, and configuring results with communication to HMIs, PLCs and robotic equipment.
5. Regulation of Pharmaceuticals
Increased regulation globally is forcing the pharmaceutical industry to install machine vision systems to ensure quality, traceability and security at every step of manufacturing ranging from drug synthesis to final packaging.
For example, FDA regulations now require a given product to be traceable by serial number to a specific manufacturing facility, batch number and date, providing accountability and ultimately, boosting consumer confidence.
The European Union in 2010 required the name of medications to be printed in Braille for blind and partially sighted patients. One key reason for the more stringent regulations is the crisis of counterfeit drugs.
The World Health Organization estimates that up to 30% of prescription drugs in developing countries are counterfeit and, in developed countries, counterfeit drugs make up as much as 1% of the market.