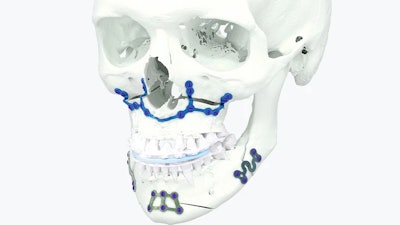 Materialise
Materialise yesterday announced a new 3D printing facility to accelerate the delivery of patient-specific medical implants to U.S. patients.
Surgeons have increasingly embraced 3D printing solutions for personalized patient care, including more predictable and accurate surgical outcomes, and time savings during surgery.
At the new facility in Plymouth, Michigan, Materialise 3D prints personalized titanium cranio-maxillofacial (CMF) implants. CMF implants are used for facial reconstructive surgery.
Until now, Materialise manufactured titanium CMF implants solely in Belgium. With a dedicated metal 3D printing facility in the U.S., the company can respond to surgeons' needs with greater reliability while reducing the delivery time of fully personalized implants to hospitals across the United States.
The expansion complements Materialise's existing production of 3D-printed surgical guides and anatomical models in the United States.
Patient-specific 3D printed medical solutions include anatomical models for diagnostic purposes and surgical guides and implants to enhance accuracy and efficiency. The solutions are designed to bolster surgeons' comfort before and during surgery, leading to more predictable and accurate surgical outcomes.
As a result, surgeons increasingly adopt 3D printing as part of their medical practices to bring personalized care closer to patients and to reduce overall costs.
Materialise produces 280,000 personalized 3D printed instruments and implants per year, including 160,000 for the U.S. market.