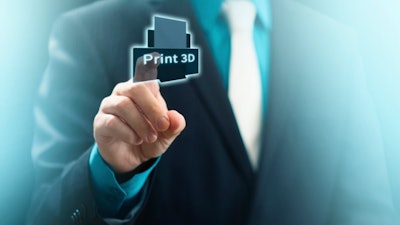 3D printing, although it has been around since the 1980s, is now becoming a major component of the on-demand economy. This form of printing can save time and money in sectors ranging from aerospace to medical to shipping products, all of which are printable at the point of use. In this author's opinion, these 11 companies have demonstrated a commitment to this technology and have made it crucial to their operations. They have made the future part of their present.
General Electric
General Electric has made a significant investment in 3D printing. Their LEAP engine, a product of a joint venture with Snecma (Safran) of France, became their best-selling engine two years before the first was produced. Each engine uses 3D-printed fuel nozzles and other next-gen technologies to produce a 16 percent reduction in fuel costs. The nozzles are expected to last five times as long as the previous, traditionally manufactured nozzles. 3D printing allowed a simpler design which reduced the number of welds in each nozzle. GE has also acquired a couple of companies that engage in metal 3D printing, and has a goal of selling 10,000 or more printers by 2027.
BeeHex
BeeHex has been developing a 3D pizza printer in conjunction with NASA. The space agency is working on a mission to Mars and the challenge of feeding astronauts for the multi-year-round trip. Pizza and other foods can be printed in less time than manually preparing them. Their Chef 3D is still in production, but expected to hit commercial markets soon.
ByFlow
ByFlow makes another 3D food printer. The food-ink cartridges can contain real food, including beef raised on the range. This unique printer can be filled with products made of peptide chains biosynthesized with bacteria and algae, allowing vegetarians to enjoy "meat". The peptide chains have an identical composition to meat proteins. ByFlow's 3D food printer allows for the creation of much more intricate food designs and is designed for commercial kitchens.
Materialise
Materialise is a full-service 3D printing bureau. They primarily work with engineering and prototypes and have a versatile range. Recently, they have teamed with Cabrio to manufacture a line of eyeglasses. They are also active in 3D medical modeling, converting images of the body into models. Surgeons can use these models to practice complex surgeries. They can also print patient-specific implants.
Local Motors
Local Motors, founded in 2008, is driving into the future through the manufacture of 3D-printed cars. Their LM3D series is built of 50 parts, compared to the 30,000 or more in traditionally-manufactured vehicles. The Strati, which can be printed in 44 hours, is made of carbon fiber and reinforced ABS plastic. It's a small, convenient car that is powered entirely by electricity. Another vehiicle, the Olli, is a driverless, all-electric model designed to carry eight people in urban areas or university campuses. The company sees the printing of cars, especially for local use, as consuming fewer resources than traditionally manufactured vehicles.
Apis Cor
Apis Cor recently demonstrated the ability to build a small, concrete home in 24 hours, at a cost of $10,000. The 400-square-foot home even featured a three-pointed rounded star to demonstrate the company's printing flexibility. Affordable housing has the potential to benefit many poorer or remote communities.
Desktop Metal
3D printing with metal has been cost-prohibitive for many companies, but Desktop Metal's patented system, available in both desktop and production-sized printers, hopes to improve the cost-effectiveness of this approach. They position the desktop model as ideal for prototypes, while the production system, anticipated for 2021, is designed for high output and low cost.
Nano Dimension
Israel's Nano Dimension specializes in printed electronics. They produce a line of nanoparticle silver inks for circuit-board use. Their DragonFly 2020 printer software allows their nano inks to produce hardware for many applications. Nano Dimension appears to be on the verge of entering the bioprinting field. In 2017 it filed for a U.S. patent to print 3D structures which would filter blood, similar to the way kidneys work. While they require significant development, these products could be used in conjunction with transplants, as well as in drug development.
Open Bionics
Open Bionics, founded in 2014, prints low-cost and highly customized prosthetic hands and supporting products. They've also teamed up with Disney to create superhero themed hands, including Iron Man, Star Wars and Queen Elsa from Frozen. Disney was supportive enough to make the designs royalty-free.
Shapeways
Shapeways is another 3D printing service bureau. Its services are aimed more at individual consumers, although they also offer prototyping and small-batch production services. The design community can upload designs or use Shapeways' 3D apps to design models, jewelry, terrain scale models and other 3D items. In addition to design, they also provide a marketplace for designers to sell their products. Through the Shapeways store, designers of game supplies, miniatures, jewelry and household products can easily sell their design in an on-demand environment.
Made in Space
Our final entry is another company which partners with NASA. They're focused on developing technologies for printing and production in zero-gravity environments, whether in earth orbit or beyond. One of their efforts, Archinaut, is designed to create technologies and systems to allow 3D printing and additive manufacturing in space.
3D printing is the manufacturing method of the future. While many firms will maintain and store inventory, the flexibility of 3D printing will change the way many economic sectors function. These companies demonstrate the flexibility and adaptability needed leverage this leading-edge technology.
David Madden is the founder and president of Container Exchange.