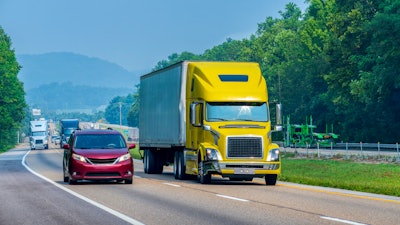 iStock
Legislation introduced in Congress earlier this month would lift an exemption in federal law that has prevented many of the nation's truckers from receiving overtime pay for decades.
U.S. Sens. Alex Padilla, D-Calif., and Ed Markey, D-Mass., together with U.S. Reps. Mark Takano, D-Calif., and Jeff Van Drew, R-N.J., said the "Guaranteeing Overtime for Truckers Act" would finally ensure that truck drivers receive the same overtime protections as other workers for hours worked above 40 in a week.
The motor carrier exemption of the 1938 Fair Labor Standards Act specifies that overtime pay requirements do not apply to employees who are regulated by the U.S. Department of Transportation. Padilla said in a statement that the language effectively forced truckers to work unpaid while waiting for hours in crowded warehouses or port complexes.
DOT officials had called for repealing the exemption in a report analyzing the nation's logistics networks and supply chains early last year. Critics said the overtime provision has led to chronic worker shortages and high turnover rates in the trucking industry — and prompted safer, more experienced drivers to leave the sector altogether.
"With this discount on a trucker's time, 'big trucking' has led a race to the bottom for wages that treats truckers as expendable components rather than the professionals they are," Todd Spencer, the president of the Owner-Operator Independent Drivers Association, said a statement from the bill's authors.
The trucking industry, however, quickly condemned the bill and defended its pay practices.
"To support this misguided legislation is a vote for supply chain chaos and the inflationary consequences for consumers," American Trucking Associations President and CEO Chris Spear said in a statement.