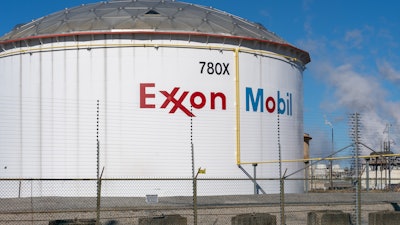 iStock
TOKYO (AP) — Global shares are flat in muted trading Wednesday as an extended rout in energy prices hints at falling demand as the global economy slows.
Futures for the S&P 500 ticked up 0.01% to 4,396.25 and the Dow futures edged 0.04% higher to 34,230.
Crude prices are hitting three-month lows and benchmark U.S. crude prices have fallen in seven of the past 10 days. Prices inched lower again Wednesday to $76.66 per barrel. The price for a barrel of oil is down nearly 5% this week, and it's down more then 7% over the past 30 days.
Crude prices have retreated to levels last seen in July, before the Israel-Hamas war raised worries about potential disruptions to supplies.
Natural gas is slumping as well, down nearly 10% this week. Crude and natural gas are both in negative territory for the year.
Brent crude, the international standard, shed 95 cents to $80.66 a barrel.
Fed Chief Jerome Powell will open a conference in Washington, D.C., early Wednesday where a number of his colleagues at the Federal Reserve will make presentations including Gustavo Suarez, Steve Sharpe, Michael Gibson and Andreas Lehnert. John C. Williams, president of the Federal Reserve Bank of New York, will give the keynote speech.
Investors in Asia also are turning their attention to prospects for improved China-U.S. relations from meetings next week on the sidelines of a Pacific Rim summit.
The Asia-Pacific Economic Cooperation forum meetings in San Francisco offer an opportunity for top leaders from the U.S. and China to mend troubled trade and political ties.
Presidents Joe Biden and Xi Jinping are due to meet then, and White House officials expect to make some modest announcements as part of the tete-a-tete, but fundamental differences in the relationship will remain unchanged.
U.S. Treasury Secretary Janet Yellen is set to meet Thursday and Friday with Chinese Vice Premier He Lifeng in San Francisco before finance ministers of the APEC member nations officially kick off the summit Saturday.
France's CAC 40 edged up 0.14% to 6,995.98 and Germany's DAX lost 0.07% to 15,141.98. Britain's FTSE 100 edged up less than 0.1% to 7,413.84. The future for the S&P 500 was down less than 0.1% while that for the Dow industrials was unchanged.
Hong Kong's Hang Seng shed 0.5% on Wednesday to 17,588.46, while the Shanghai Composite declined 0.2% to 3,052.37. Gloom over China's worse-than-expected export data offset any positive momentum from an upgrade to its growth forecast by the International Monetary Fund. It raised its GDP growth forecast for 2023 to 5.4% from 5% but predicted that growth will slow next year.
Japan's benchmark Nikkei 225 dropped 0.3% to finish at 32,166.48. South Korea's Kospi lost 0.9% to 2,421.62. Australia's S&P/ASX 200 gained 0.3% to 6,995.40.
Moody's Investors Service affirmed the government of Japan's A1 long-term foreign currency and local currency issuer and local currency senior unsecured ratings. The outlook was maintained at stable.
"Today's rating action reflects Moody's expectation that Japan's capacity to carry its very large debt burden remains intact, underpinned by the retention of its formidable credit strengths, including robust domestic liquidity driven by the continued growth of private sector savings," it said.
The main worries for Japan were its "structural weaknesses," such as its aging population, according to Moody's.
The weak trade data highlight persisting external challenges for Asian economic growth, Stephen Innes, managing partner at SPI Asset Management, said in a commentary.
"Despite the robust U.S. economic momentum observed in the third quarter, cyclical stocks are struggling to attract sustained interest from investors, who anticipate an eventual deceleration in economic growth," he said.
In currency trading, the U.S. dollar edged up to 150.77 Japanese yen from 150.37 yen. The euro cost $1.0662, down from $1.0702.