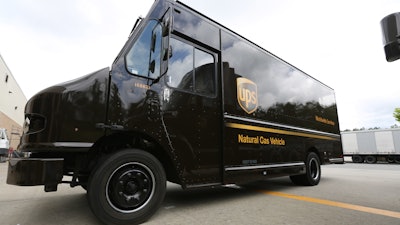 UPS
Logistics provider UPS announced this week that it plans to purchase more than 6,000 natural gas-powered trucks globally between 2020 and 2022 in a $450 million investment, as well as increase its electric vehicle fleet in Germany. The company said the move is to expand its alternative fuel and advanced technology vehicle fleet and support infrastructure.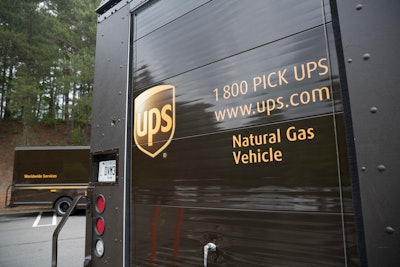 UPS said the trucks will be equipped with compressed natural gas (CNG) fuel systems provided under an exclusive agreement with Hexagon Composites subsidiary Agility Fuel Solutions. The CNG expansion also provides additional capacity for growing use of renewable natural gas (RNG).
"UPS continues to expand and improve our smart logistics network by implementing new technologies and creating a highly flexible, data-driven, and sustainable network," said Juan Perez, chief information and engineering officer of UPS. "That is why we intend for 25 percent of our vehicles purchased in 2020 to run on alternative fuels."
The company said that as of October, UPS has agreed to purchase 230 million gallon equivalents of RNG over the next seven years, making the company the largest consumer of RNG in the transportation industry. Agile Fuel Solutions has supplied natural gas fuel storage and delivery systems to more than 1,700 UPS trucks since 2016. As part of the new agreement, Agility will provide complete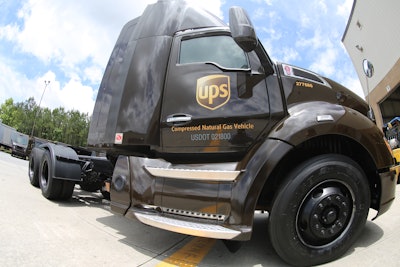 end-to-end natural gas systems for heavy-duty gas trucks, terminal tractors and medium-duty walk-in vans, which are UPS's familiar brown delivery trucks. These will include on-board CNG fuel storage and management and Agility's certified natural gas engine fuel systems.
"We are proud to continue our collaboration with UPS, a front-runner in clean transportation," says Seung Baik, president of Agility Fuel Solutions. "With our range of proven and reliable clean fuel technologies and aftermarket support capabilities, we will assist UPS in reaching its sustainability targets."
UPS said that over the past decade, it has invested more than $1 billion in alternative fuel and advanced technology vehicles and fueling stations to help meet its target of reducing absolute greenhouse gas emissions by 12% across its global ground operations by 2025.
EVs
One day after the natural gas-powered truck announcement, UPS stated Thursday that it will convert an additional 33 diesel delivery vehicles in Germany to electric or hybrid. The conversions are a part of ZUKUNFT. DE, an initiative sponsored by the German Federal Ministry of Transport and Digital Infrastructure to explore ways to make package delivery more sustainable.
"Fleet electrification is one of the areas where we seek to act as an industry leader," said Luke Wake, director of automotive engineering & advanced technology group at UPS International. "Our operations are well suited toward electric vehicle technologies but the lack of vehicle availability continues to prove frustrating. As one of the world's leading logistics providers, we want to show with these conversions that the technology is here today, it's real, it works and we want to encourage the mass adoption of commercial electric vehicles in the marketplace."
UPS said that of the 33 vehicles, 15 will run purely on electricity, while the remaining 18 will be plugin hybrids. Two of the hybrid vehicles have already been deployed in Hanover, and the remaining 16 will be used in Bielefeld, Frankfurt and Nuremberg. The e-vehicles conversions will be used initially in Dusseldorf and Frankfurt-am-Main, with further cities to follow.
UPS said the the new 33 vehicles will enable a reduction of up to 200 tons of carbon dioxide per year.