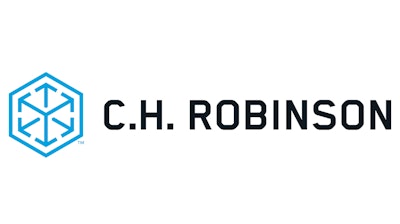 Eden Prairie, MN-based C.H. Robinson, the largest freight logistics provider in North America, announced Sept. 17 that it plans to invest $1 billion over the next five years in innovation, advanced technologies and talent.

The initiative comes amidst a growing pool of digital logistics startups to compete with, and is a considerably more aggressive move compared to C.H. Robinson's previous $1 billion investment in the same areas over the past 10 years.
"We are a platform-driven solutions company with technology built by and for supply chain experts, powered by our information advantage," company president and CEO Bob Biesterfeld stated at the Council of Supply Chain Management Professionals EDGE Conference in Anaheim, CA. "It's when these tools are leveraged by the smartest and most relentless experts—who really understand and are committed to our customers' business—that we create extreme value in the supply chain for our clients' benefit."
A C.H. Robinson press release stated, "With more than 1,000 data scientists, engineers and developers, the company is continuing to invest in global talent in this critical area, making an already strong team even stronger."
During his remarks, Biesterfeld shared several key statistics to back up the need for investment in artificial intelligence, machine learning and predictive analytics—three technology tools having a major impact on the supply chain marketplace today:
"Technology is more important than ever, with 88 percent of shippers who contract to purchase freight saying that technology is extremely or very important when choosing a logistics provider.
Visibility and predictive tools are external logistics providers' most important assets, with 65 percent of customers saying they either have or are planning on implementing real-time visibility and insight tools in the next two years.
Local expertise is key, with 83 percent of shippers saying that having a logistics partner with local and global expertise is essential to their business needs."