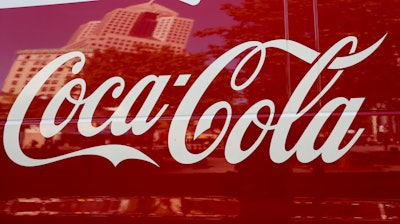 AP Photo/Keith Srakocic, File
ATLANTA (AP) — Coca-Cola is reporting strong profit and revenue numbers, thanks in part to rising demand for Diet Coke and Coca-Cola Zero Sugar in North America.
The maker of Sprite, Fanta and Powerade earned $2.32 billion, or 54 cents per share, for the three months ended June 29. A year earlier the Atlanta company earned $1.37 billion, or 32 cents per share. Coca-Cola got a boost from a $42 million gain related to discontinued operations.
Removing one-time gains or losses, earnings were 61 cents per share. That's a penny better than what analysts surveyed by Zacks Investment Research expected. Revenue slipped to $8.93 billion from $9.7 billion on bottling refranchising efforts, but still beat forecasts for $8.54 billion.
In North America, sparkling soft drink volume edged up one percent on double-digit growth in Coca-Cola Zero Sugar. Water, enhanced water and sports drinks climbed five percent, helped by strong growth in Powerade. Juice volume fell, mostly on package downsizing across the portfolio and deprioritizing lower-margin juice drink brands. Tea volume dropped primarily due to package downsizing in Gold Peak tea.
Coke and rival PepsiCo are trying to diversify their drink offerings to be more aligned with changing tastes. But the companies are also still trying to boost sales of their namesake brands. Coca-Cola has tried rebranding Diet Coke with slimmer, taller cans and flavors. It also renamed Coke Zero to Coke Zero Sugar. It has also been pushing into sparking, flavored waters with its Dasani brand, following the surging popularity of drinks like La Croix.
PepsiCo, which has made similar moves, said earlier this month its sales volume declined in North America for the second quarter.