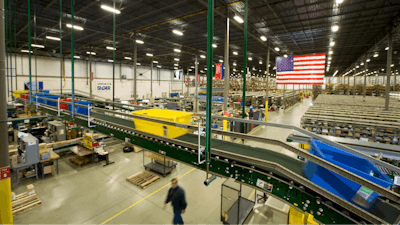 Sager
MIDDLEBOROUGH, Mass. – Sager Electronics, a North American distributor of interconnect, power and electromechanical components, has expanded its hours of operation, adding a third shift in its 100,000 square foot distribution center in Middleborough, MA.
The newly added third shift will operate from 3:00 p.m. to midnight EST.
"We introduced a third shift at our principal distribution center to meet rising demands and maximize available production time," explained Shannon Freise, Vice President of Operations. "The expanded service hours allow for increased inventory control, cycle counts and re-warehousing tasks, and will ensure we continue to deliver products quickly and efficiently."
With the addition of the new shift, Sager welcomed two new supervisors to its operations leadership team. 
Don Barrett has been named Operations Support Supervisor, charged with overseeing the new third shift. Mr. Barrett has more than 18 years of distribution and management experience.
Karen Phelps has joined Sager as Distribution Center Supervisor, managing picking and put-away processes. Ms. Phelps comes to the organization with over 16 years of distribution supervisory experience. Ms. Freise continued, "We're delighted to bring the respective talents of Don and Karen to our distribution team."