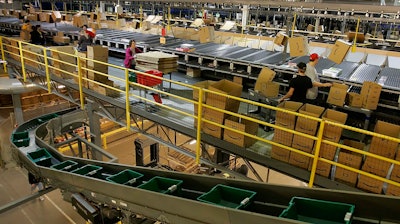 AP Photo/Ben Margot, File
LAS VEGAS (AP) — Online retailer Amazon said Wednesday that it will build another warehouse packing and distribution center in the Las Vegas area.
The facility should open next year on 800,000 square feet (74,322 square meters) of vacant land east of Interstate 15, not far from the Las Vegas Motor Speedway, the Seattle-based company and city of North Las Vegas said in statements. Officials project it will generate more than 1,000 full-time jobs.
Company spokeswoman Lauren Lynch declined to provide a cost for what would become the fourth and largest Amazon facility in North Las Vegas.
Gov. Brian Sandoval called the announcement good news for the state. It comes as 20 cities around the country are competing to attract a second Amazon headquarters.
The e-commerce giant dropped Las Vegas from consideration for the headquarters in January after being invited to reshape a swath of downtown property, including the city library, a stadium and convention hall into a corporate campus.
The state economic development office spent $31,250 promoting that offer, the Las Vegas Review-Journal reported.
North Las Vegas Mayor John Lee hailed what he called a rapidly expanding Amazon presence in his city, which is already home to Amazon sorting and return centers and a warehouse distribution facility for medium-sized items such as computers.
That distribution center opened last summer with about 1,000 full-time workers after state officials granted about $1.8 million in tax abatements.
No tax abatement was provided for the new facility, Lynch said.
North Las Vegas said the new center is expected to be a three-story industrial building totaling 2.4 million square feet (223,000 square meters) that will use robots to pick, pack and ship small items such as books, electronics and toys.
Sanjay Shah, an Amazon vice president, said in a statement that the company employs more than 3,000 people in Nevada.