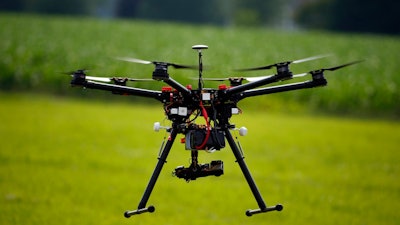 AP file
MINNEAPOLIS (AP) — A federal grand jury in Minnesota indicted three people on charges that they conspired to export drone parts and technology from the U.S. to the Iranian-backed Hezbollah militia in Lebanon, authorities announced Friday.
The U.S. Attorney's office for Minnesota said two of the suspects — brothers Usama and Issam Hamade — are now in custody in South Africa, while the third, Samir "Tony" Berro, remains at large. All three are Lebanese citizens. Usama "Prince Sam" Hamade also has South African citizenship, while Berro and Issam Hamade are also U.K. citizens.
The U.S. considers Hezbollah a terrorist organization. The Shiite militant group has used drones at least since 2004. The indictment alleges the conspiracy operated from 2009 through December 2013. It says the equipment included electronics that can be used in drone guidance systems, one jet engine and 20 piston engines that can be used in drones, and a pair of digital video recording binoculars.
The updated indictment unsealed Friday was dated Oct. 11, 2017, but the original was filed in 2015 and kept sealed to keep the investigation secret from the three men.
The brothers were arrested Tuesday in South Africa for extradition to the United States to face trial in Minnesota, according to another prosecution filing Friday. They appeared before a magistrate there and were ordered held pending another hearing Feb. 26. Usama Hamade is a South African resident. The filings don't say where Issam Hamade lives, but said he would visit his brother in South Africa.
The parts included inertial measurement units, which can be used to track an aircraft's position, and digital compasses, which can be paired with the IMUs for drone guidance systems. The indictment doesn't name the companies, but the model names and numbers indicate the IMUs were manufactured by Concord, California-based Systron Donner Inertial, and that the digital compasses were made by Honeywell International's operations in suburban Minneapolis.
The jet engine was sold by an unnamed Indiana company, while the piston engines were sold by an unnamed Florida company. The model number indicates the digital binoculars were made by Sony. None of the items could legally be exported to Hezbollah, the indictment said.
Berro controlled SAB Aerospace based in Dubai in the United Arab Emirates, the indictment said. The defendants had most of items shipped to Lebanon and Hezbollah through the UAE and South Africa, it said. One shipment of piston engines also went through Minnesota.
Usama Hamade falsely claimed the IMUs and digital compasses would be used in drones in South Africa to monitor wildlife to prevent poaching, the indictment said. As part of the conspiracy, the indictment also alleged, Issam Hamade made nearly $174,000 in wire transfers from a bank in Beirut, Lebanon, to accounts controlled by his brother.