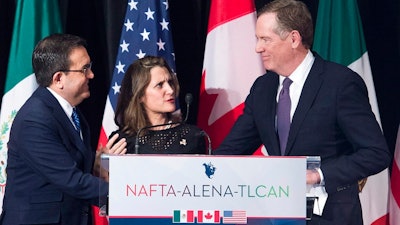 Graham Hughes/The Canadian Press via AP
MONTREAL (AP) — U.S. Trade Rep. Robert Lighthizer said Monday talks to rewrite the North American Free Trade Agreement are progressing very slowly.
Lighthizer said the U.S. views NAFTA as a "very important agreement" and said the sixth round of talks between Canada, the United States and Mexico, which concluded Monday, were a "step forward."
"Some real headway was made here," Lighthizer said. "We're committed to moving forward.'
President Donald Trump called NAFTA a job-killing "disaster" on the campaign trail and has threatened to withdraw from the 24-year-old pact if he can't get what he wants.
Lighthizer said there will be another round in Mexico in late February and said core issues are starting to be discussed.
The negotiators had originally hoped to reach an agreement before Mexico's July presidential election and U.S. midterms turn up the political pressure.
One of the main sticking points in the latest rounds of negotiations has been the Trump administration's position on rules of origin for auto parts. The US is calling for any new agreement to include a proviso stipulating that North American-made car parts must constitute 85 percent of new vehicles in order to avoid tariffs, with 50 percent originating in the United States.
Canada's proposal would take elements such as research and development and intellectual property into account in those calculations. Lighthizer, however, called the idea "vague."
"We find that the automobile rules of origin idea that was presented, when analyzed, may lead to less regional content than we have now, fewer jobs in the United States, Canada and likely Mexico," he said. "So this is the opposite of what we are trying to do."
Still, Lighthizer said the fact that Canada is willing to discuss core issues like auto parts is encouraging.
"Now they're starting to realize that we have to begin to talk. And that's a reason for guarded optimism," he said.
Lighthizer said the Trump administration's goal coming out of the negotiations is to boost the number of manufacturing jobs in the United States, either by encouraging new investment or by bringing back jobs that had moved to Mexico.