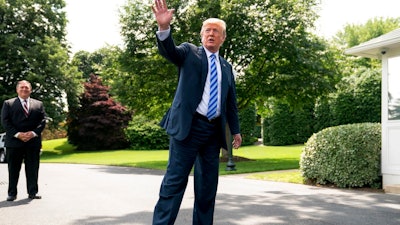 AP Photo/Andrew Harnik
WASHINGTON (AP) — President Donald Trump on Friday floated the idea of replacing the North American Free Trade Agreement with two separate trade deals — one with Canada and one with Mexico — adding more uncertainly to trade talks between the three countries that appear to have ground to a halt.
Speaking with reporters at the White House, Trump said America's neighbors are "two very different countries" that perhaps should no longer be governed by the same trade rules.
"To be honest with you, I wouldn't mind seeing NAFTA where you'd go by a different name where you make a separate deal with Canada and a separate deal with Mexico," he said.
The comment was sure to further complicate talks that have been under way for months to renegotiate the landmark free trade deal that eliminated most tariffs and duties between the three countries. The talks already were on tense footing when Trump announced this week that he would impose tariffs on steel and aluminum imports from Canada, Mexico and the European Union, igniting global condemnation and threats of retaliatory tariffs that could badly hurt American producers.
Trump has long railed against NAFTA, condemning it as a job-killing "disaster" that has decimated U.S. manufacturing. "It's been a lousy deal for the United States from Day One," Trump said Friday, dismissing objections from some of the country's closest allies. "They're our allies but they take advantage of us economically."
The comments came hours after Trump lashed out at Canada by tweet, accusing America's northern neighbor of treating "our Agricultural business and Farmers very poorly for a very long period of time."
"Highly restrictive on Trade! They must open their markets and take down their trade barriers!" he wrote. U.S. Commerce Department numbers show the U.S. recorded a trade surplus with Canada for each of the past three years.
The United States had sought to use the tariff threat as a cudgel to win concessions from Canada and Mexico in talks to renegotiate NAFTA, offering the two U.S. neighbors a permanent exemption if they agreed to U.S. demands. But Commerce Secretary Wilbur Ross said there was "no longer a very precise date" as to when talks would end and that the tariffs went into effect at midnight Thursday as a result.
Canadian Prime Minister Justin Trudeau said Thursday that he'd offered to go to Washington this week to complete the talks, thinking they were close to an agreement, but that Vice President Mike Pence called him and told him a meeting with the U.S. president would only happen if Trudeau agreed to put a five-year sunset clause into the deal.
Trudeau said he'd refused to go because of the "totally unacceptable" precondition. A White House official said a range of issues had yet to be resolved.
Trump's trade policies — and specifically the steel and aluminum tariffs — have drawn international denunciation.
Canada announced plans to slap tariffs on $12.8 billion worth of U.S. products, ranging from steel to yogurt. Mexico complained the tariffs will "distort international trade" and said it would penalize U.S. imports including pork, apples, grapes, cheeses and flat steel.