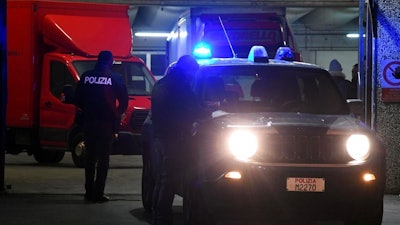 Claudio Giovannini/ANSA via AP
MILAN (AP) — Italian law enforcement has broken up a Chinese organized crime ring that used money from criminal activities to force its way into European trucking companies and control the movement of Chinese-made goods in much of Europe, anti-Mafia prosecutors said Thursday.
Top anti-Mafia prosecutor Federico Cafiero de Raho told reporters in Florence that the organization used mafia methods, including intimidation, extortion and violence.
He said the ring earned cash from drug trafficking, gambling and prostitution in locations throughout Italy, which they used to take over transportation companies in Italy, France, Spain and Germany.
More than 50 people were under investigation, most in the Tuscan city of Prato, a key center of Chinese business in Italy. Arrest warrants were issued for 33 people, including several already jailed on other charges, two in France and two in China.
The criminal components hail mostly from the Chinese provinces of Zhejiang and Fujian, police said in a statement.
The prosecutor said that the Chinese-run transport companies laundered money from the criminal businesses, and that they were also a form of illicit competition with legitimate companies operating under the law.