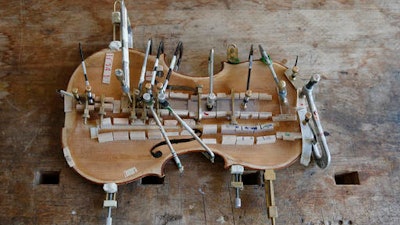 AP Photo/Antonio Calanni
MILAN (AP) — Acoustics aren't all that count when making a violin. Aesthetics are also a key element. And that's why the craft of making stringed instruments is thriving in Italy, a country known for its love of beauty and long history of violinmaking (see photos in gallery).
Stradivarius made his prized violins in Cremona, but the craft is growing in other cities in the Lombardy region, including Milan and nearby Pavia.
Marco Brunello says the sculpting of the violin scroll is distinctive to the artist who makes it, his or her signature.
The 44-year-old violinmaker in Pavia took up the trade after a decade as an engineer. His shop on a quiet pedestrian street displays a few examples of his work in the window. But the magic happens in the instrument-making workshop at the back. Brunello creates about 10 violins a year, each involving about 200-300 hours of work.
The starting price for a Brunello violin is 5,000 euros ($5,600) — and the sky is the limit on the final tab. Brunello's customers are mostly from Asia.
At the Civica Scuola di Liuteria di Milano, a school for making stringed instruments, students dedicate the first two years to the technical foundations, learning how to properly use the tools. Only after that can turn their creative energies to violin design. Established in 1978, the school accepts just 15 students a year.
"For me, the greatest joy when making a violin is when I assemble the strings, when in fact I can play the violin," said Franco Ferloni, a fourth-year student in his final year.