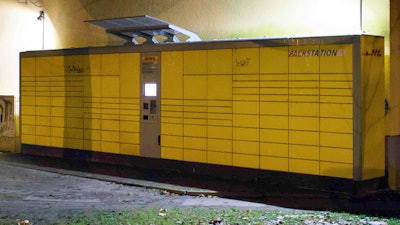 Gregor Fischer/dpa via AP
BERLIN (AP) — A murky plot to extort money from delivery giant DHL Express has many Germans on edge during the busy holiday shipping season. Packages sent to a police station and a government office produced at least two false alarms Monday as a hotline buzzed with calls from anxious citizens.
Officials in the German state of Brandenburg revealed Sunday that a package delivered to a Potsdam pharmacy with a crude device made of wires, batteries and nails inside was part of a conspiracy to extort millions of euros (dollars) from DHL.
The package also held a barcode that directed investigators to an online message threatening more unwelcome parcels unless the company paid up.
On Monday, a package delivered by DHL to the Thuringia state governor's office and at first feared to be bearing a hand grenade brought police out to investigate. An X-ray showed only rolled up catalogues in the item, prosecutor Hannes Gruenseisen told The Associated Press.
"We assume it had nothing to do with the incident in Potsdam," Gruenseisen said. "It was considered suspicious because it came from DHL, had no return address and was sent directly to the governor."
In the other false alarm, a package delivered to a police precinct in Gransee, north of Berlin, prompted the building's evacuation. It turned to be a traditional German Christmas cake, German news agency dpa reported.
The two incidents underscored the level of nervousness in many mailrooms while the person or people behind the extortion scheme remain at large.
The suspicious package delivered to the Potsdam pharmacy Friday cause police to evacuate a surrounding Christmas market and to destroy the parcel through a controlled explosion.
The online message outlining the DHL extortion demand mentioned a similar package that was sent to an online company in Frankfurt an der Oder at the beginning of November and had started burning when it was opened, prosecutors said.
A spokesman for a task force set up in Brandenburg state to investigate the plot refused Monday to give more details, citing the ongoing probe.
DHL, a division of Deutsche Post DHL, has refused to comment on the case. Telephone calls to its headquarters in Bonn, Germany went unanswered Monday.
Last month, the company said it expected to handle 8.5 million daily deliveries in Germany during the holidays, double the number it usually makes.
Potsdam police woman Stefanie Klaus said a hotline activated as part of the investigation has been ringing steadily with calls about suspect parcels from concerned citizens. Tips are being phoned in as well, she said.
"We have received more than three dozen phone calls, but none of them was a hot lead," Klaus said.