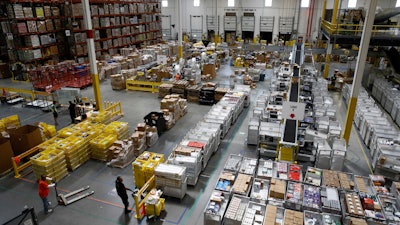 AP Photo/Patrick Semansky
WASHINGTON (AP) — When the robots came to online retailer Boxed, dread came too: The familiar fear that the machines would take over, leaving a trail of unemployed humans in their wake.
"I had a lot of people asking me, 'What is going to happen to us?'" says Veronica Mena, a trainer for the e-commerce startup. Anxiety had rippled through her co-workers after company executives announced plans to open an automated warehouse in nearby Union, New Jersey.
Yet their fears didn't come to pass.
When the new warehouse opened this spring, workers found that their jobs were less physically demanding than at the previous, manual warehouse in Edison, New Jersey. And rather than cutting jobs, the company added a third shift to keep up with rapidly growing demand.
What happened at Boxed — and has occurred elsewhere — suggests that widespread fears about automation and job loss are often misplaced. Automation has actually helped create jobs in e-commerce, rather than eliminate them. By accelerating delivery times, robotics and software have made online shopping an increasingly viable alternative to bricks-and-mortar stores, and sales have ballooned at online retailers.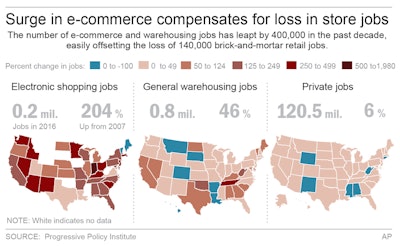 The surge in e-commerce has required the rapid build-out of a vast network of warehouses and delivery systems that include both robots and human workers. Even if the robots replace some people in each warehouse, the proliferation of new warehouses should still generate hiring for years to come.
"We're not looking to do the same work with half the people," said Rick Zumpano, vice president for distribution at Boxed. "Since we're growing, we need everyone."
Jobs have been lost at storefront retailers, which have suffered under the e-commerce onslaught. But worries about a "retail apocalypse" wiping out many of the nation's 16 million retail jobs have missed a more important trend: E-commerce actually leads to more jobs by paying people to do things we used to do ourselves.
When people shop online, tasks that consumers once did — driving to a store, searching through aisles for a product, bringing it to a cashier and paying for it — are now done by warehouse employees and truck drivers. People spend less time shopping than in the past, research shows.
That means the bankruptcies and store closings in the retail sector aren't the complete picture. Michael Mandel, an economist at the Progressive Policy Institute, calculates that the number of e-commerce and warehousing jobs has leapt by 400,000 in the past decade, easily offsetting the loss of 140,000 brick-and-mortar retail jobs.
Amazon accounts for much of the additional employment. Yet it's also at the vanguard of automation. Since 2014, Amazon has deployed 100,000 robots in 25 warehouses worldwide. At the same time, it's nearly tripled its hourly workforce, from roughly 45,000 to nearly 125,000.
Online grocery shopping is also creating more jobs. Walmart is expanding its online grocery pickup service to 2,000 stores, double the 1,000 where it is now available. The company has created a new class of workers —"personal shoppers" — to fill all the orders.
All these trends have been helped by automation's ability to hold down costs.
And even with automation, there are still jobs at all these warehouses for people to do.
Barbara Ward, 56, is a packer at Boxed, and like all her colleagues, she writes a thank-you note for each order she packages. When a customer has ordered diapers, a packer might write a congratulatory note.
At Amazon's Baltimore warehouse, employees called "stowers" are needed to stock the shelves that are carried by robots. And that requires human judgment: Software suggests to workers where each item should be placed. But it's an employee's responsibility to make sure the shelves, which are tall and narrow, remain balanced.
The explosion of online commerce is also building demand for higher-paying jobs in software and robotics. Nearly 14 percent of software job listings are now posted by retailers, according to data analyzed by Glassdoor, the job recruitment website. That share has doubled from 2012, says Andrew Chamberlain, Glassdoor's chief economist.
Automation and robotics will only get more sophisticated in the future, which will threaten some jobs.
"What's going to happen next is robotic arms, combined with vision technology and suction technology," says Marc Wulfraat, president of MWVPL, a consulting firm. "You can be darn sure that Amazon will take the first swing at it."
But it could take several years for such robots to be put into widespread use. For now, they work mostly with items in boxes and other rigid shapes, Wulfraat says. They can't yet handle bulkier items such as basketballs or softer items like clothes.
And Mandel argues that if robotic pickers lower costs further, it could create new markets for products and services, such as custom-made goods.
Wulfraat predicts that hundreds of smaller warehouses will be built in large cities to shorten delivery times to as low as an hour, particularly for groceries. Amazon already has 53 such facilities, and its competitors will be forced to follow suit. Those facilities will be smaller and cheaper and won't be worth fully automating.
Automation is also more likely in the coming years to make up for labor shortages rather than replace workers, Wulfraat says. Any warehouse workers displaced by automation will easily find jobs elsewhere.
"I don't see hundreds of thousands of workers unemployed and on the street," he said.