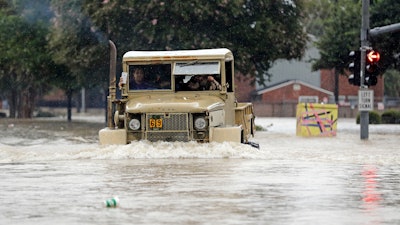 AP Photo/David J. Phillip
Massive flooding caused by Harvey along Texas' refinery-rich coast could have long-standing and far-reaching consequences for the state's oil and gas industry and the larger U.S. economy. The storm's remnants left much of Houston underwater on Sunday, and the National Weather Service says it's not over yet: Some parts of Houston and its suburbs could end up with as much as 50" (1.3 meters) of rain.
With the heavy precipitation expected to last for days, it's still unclear how bad the damage will be, but there is already evidence of widespread losses. Key oil and gas facilities along the Texas Gulf Coast have temporarily shut down, and flooding in the Houston and Beaumont areas could seriously pinch gasoline supplies.
Companies operating in the Gulf of Mexico have evacuated drilling platforms and rigs, crimping the flow of oil and gas. Experts believe gasoline prices could increase as much as 25 cents a gallon.
Harvey's toll on air travel in the U.S. is set to extend into Monday, with the tracking service FlightAware.com reporting that more than 1,400 flights already have been canceled. That's in addition to more than 2,000 canceled over the weekend.
Economy watchers were looking to oil futures markets Sunday night and stock trading in the U.S. Monday morning for further indications of fallout. Here's what was known as of Sunday night:
Refineries
Nearly one-third of U.S. refining capacity sits in low-lying areas along the coast from Corpus Christi, Texas, to Lake Charles, Louisiana. Beyond the shutdown of refineries at risk of a direct strike from high winds, there's the threat of flooding and potential power outages for gasoline supplies. Refinery outages continued to spread Sunday, with about 2.2 million barrels per day of refining capacity down or being brought down, according to analysts at S&P Global.
Valero Energy Corp., whose two big Corpus Christi refineries escaped damage, said it was working with federal and Texas agencies and its business partners to determine what infrastructure was needed to resume refinery operations.
Even before Harvey hit, the prospect of supply disruptions sent gasoline futures to $1.74 a gallon, their highest level since April, before they retreated to around $1.67 by Friday afternoon. At the pump, experts see gasoline increasing 10 cents to 25 cents a gallon.
Given the strictures faced by the refineries, "This is the dominoes starting to fall," Patrick DeHaan, senior petroleum analyst for Gas Buddy, said Sunday. "This is sort of slowly turning out to be the worst-case scenario."
Oil & Gas
Companies have evacuated workers from oil platforms in the Gulf of Mexico. The U.S. Bureau of Safety and Environmental Enforcement said Sunday that workers had been removed from 105 of the 737 manned platforms used to pump oil and gas from beneath the Gulf.
The agency estimated that platforms accounting for about 22 percent of oil production and 26 percent of natural gas output in the Gulf had been shut down.
"After the storm has passed, facilities will be inspected," the agency said in a news release. "Once all standard checks have been completed, production from undamaged facilities will be brought back on line immediately. Facilities sustaining damage may take longer to bring back on line."
Shipping
The shipping industry also is expected to be disrupted by the worst hurricane to hit the Texas coast in more than 50 years. Shipping terminals along the Texas coast shut down as the storm approached. Port operations in Corpus Christi and Galveston closed, and the port of Houston said container terminals and general cargo facilities closed around midday Friday.
Rates increased for carrying freight between the Gulf and the U.S. East Coast.
Utilities
Researchers at Texas A&M University estimated that the storm would knock out power for at least 1.25 million people in Texas. They said the hardest-hit areas will include Corpus Christi, which is on the coast, and San Antonio, which is about 140 miles (225 kilometers) inland.