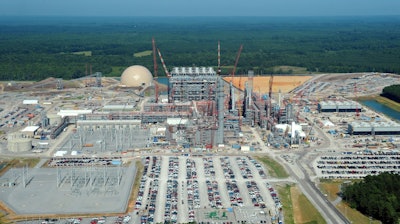 Wikipedia
JACKSON, Miss. (AP) — One of the nation's largest utilities, faced with an ultimatum from Mississippi regulators, said Wednesday that it will suspend efforts to complete a first-of-its-kind coal-fueled power plant.
The move is a blow in efforts to develop coal plants that emit less carbon dioxide, which could be key to improving the health of the nation's coal industry.
Mississippi Power Co., a unit of Southern Co., announced it was stopping efforts at its plant in Kemper County, near the Alabama state line. The Atlanta-based utility giant said Wednesday that it could lose another $3.4 billion from the Kemper County plant if it can't reach a more favorable settlement with regulators. Shareholders have already lost $3.1 billion on the $7.5 billion plant.
Mississippi Power said it will keep making electricity in part of the plant burning natural gas, as it has since 2014. The Mississippi Public Service Commission allowed the company to raise rates by 15 percent in 2015 on its 189,000 customers to recover $840 million.
"We believe this decision is in the best interests of our employees, customers, investors and all other stakeholders," Southern Company Chairman and CEO Thomas Fanning said in a statement.
Spokesman Jeff Shepard said the company on Wednesday issued notices of possible layoffs within 60 days to about 250 employees at the site.
The closely-watched plant was seen as a model for coal's future, designed to emit only as much climate-warming carbon dioxide as a natural gas plant. However, its price ballooned from $2.9 billion originally and it's more than three years behind schedule.
Sandy Buchanan, executive director of the Institute for Energy Economics and Financial Analysis, said her group and others had repeatedly warned that the plant could be a "debacle."
"There have been billions of dollars now spent and none of it has resulted in the so-called clean coal," said Buchanan, whose group favors renewable energy and opposes the use of coal. "It's time for us to recognize this is a myth. It is absolutely clear that coal is a thing of the past for electricity generation."
Last week, the three elected members of the Public Service Commission said they wanted Mississippi Power to negotiate a settlement of all the plant's outstanding costs that would prevent rates from going up further for Mississippi Power's customers, and preferably lower them. The deal sought by commissioners calls for Mississippi Power to run the plant on conventional natural gas, and for ratepayers to pay only for the $840 million in equipment that commissioners already approved. The commission set a 45-day negotiating period beginning July 6.
"I think today's action is a good indication that we are going to get a resolution to this issue once and for all," said Public Service Commission Brandon Presley, a Democrat who represents the northern third of the state. Presley is a longtime opponent of the plant. He was in the minority until two new commissioners were elected in 2015 promising to prevent big Kemper-fueled rate increases.
Mississippi Power has been trying to achieve sustained operation of two gasifiers that convert soft lignite coal to a synthetic gas. Carbon dioxide and other chemicals are then removed from the gas, before it is burned in turbines to generate electricity. However, the company has struggled to run the gasifiers and associated equipment reliably.
"It all has to come back to the fact that the coal gasifier plant is not up and running and it doesn't look like it will be soon," said Paul Patterson, a utilities analyst with Glenrock Associates.
Wednesday, the company acknowledged that Kemper might never be economically competitive with power generated from cheap natural gas.
Kelley Williams, chairman of free-market economics group Bigger Pie Forum, described the move as "way overdue." He has long argued that power from a conventional natural-gas plant would cost less.
"It's hard to make any investment in cleaning up coal economic when you're looking at natural gas as an alternative," Williams said.
The Kemper opponent said he believed some of the $840 million in costs approved by the commission could be tied to the gasifiers, and that customers should get any such money back.
"If the PSC stands firm, I think Southern will eat the entire cost of the gasifier and customers will get a rate reduction and maybe a refund," Williams said.
The company said its ability to negotiate a settlement is "uncertain" and said it will consider "other possible operational and cost recovery options."
Parent Southern has been propping up the finances of deeply indebted Mississippi Power, and it's unclear what would happen if the subsidiary had to absorb the additional loss. It's also unclear what would happen to the site's gasifiers, chemical plant and coal mine.