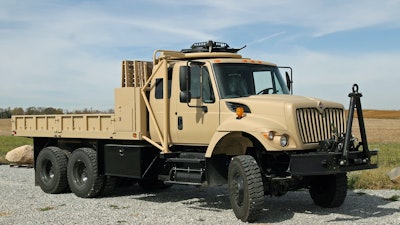 Lisle, Illinois-based Navistar Defense has been awarded a $18.8 million contract to manufacture and deliver 115 International 7000 MV Medium Tactical Vehicles to be used by the Iraqi Ministry of Interior and Ministry of Defense security forces.
Navistar Defense MTVs are based on the multi-purpose International WorkStar severe-duty vehicle platform that's designed for off and on-road operation. The vehicle is considered a key component of the MaxxPro Mine Resistant Ambush Protected vehicle platform.
Most of the work will be performed at Navistar's West Point, Mississippi factory and is expected to be completed by January 2018. Since 2004, Navistar Defense has delivered nearly 7,000 trucks and buses to Iraq.
The 7000 MV MTV is a six-wheel flatbed truck with a reinforced suspension and turbo-charged diesel engine. It is designed for heavy cargo transport, towing and vehicle recovery operations with a carrying capacity of 25 tons.