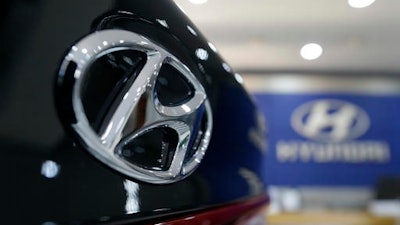 AP file
SEOUL, South Korea (AP) — South Korea ordered Hyundai and Kia on Friday to recall 240,000 vehicles to repair five defects initially raised by a whistleblower, in the country's first compulsory recall for a domestic carmaker.
The Transport Ministry said it also asked prosecutors to investigate if South Korea's largest auto group had intentionally covered up defects that could compromise safety.
Twelve models including Avante, i30, Genesis and Sonata sedans, and Tucson, Santa Fe and Sportage sport utility vehicles are subject to the recall.
Hyundai Motor Co. and its smaller affiliate Kia Motors Corp. are part of the world's fifth-largest automaker, Hyundai Motor Group.
The move is a blow to Hyundai and Kia, which are reeling from a separate recall last month of 1.4 million vehicles in the U.S., Canada and South Korea.
Hyundai said it respects the decision "though there have been no reported injuries or accidents from the cited issues."
Regarding the question of whether it had knowingly covered up the defects, it said, "We make decisions on recalls and any other necessary customer protection steps in compliance with regulators around the world as well as our internal procedures."
The ministry launched an investigation into 32 alleged defects in Hyundai and Kia cars after a Hyundai manager on its quality control team flagged them last year.
After the whistleblower went in public with the alleged flaws, Hyundai volunteered to fix three of the defects through separate recalls. But it has resisted voluntary recalls for some other issues, which led to the ministry's compulsory order after a hearing Friday, which is final.
The government recommended that Hyundai provide free repairs for nine other defects that do not affect safety. It plans to continue investigating three other issues to determine whether they are serious enough to issue recalls, while monitoring 12 others.