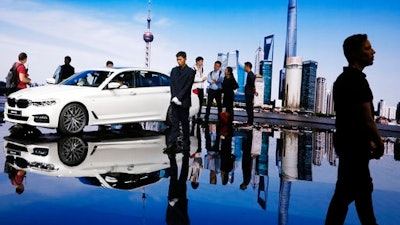 AP Photo/Ng Han Guan, File
HONG KONG (AP) — China's auto sales shrank in April as demand for most types of vehicles wilted, an industry group said Thursday.
The China Association of Automobile Manufacturers said 1.7 million passenger cars were sold in China last month, down 3.7 percent from the same period a year ago.
That's down from 1.7 percent sales growth in March.
Total vehicle sales, including buses and trucks, fell 2.2 percent from a year earlier to 2.1 million.
"Car production and sales fell significantly last month," the association said in a statement. "Automotive market demand was weak."
Auto demand in China has been cooling since Beijing raised a sales tax on small-engine vehicles at the start of the year, putting off drivers from buying cars. Analysts forecast the market will grow by mid-single digits this year, down from 15 percent in 2016. For the year to date, auto sales have grown a tepid 2.5 percent to 7.7 million vehicles.
Some 24.4 million vehicles were sold in China last year, more than any other country, making it the most important market for global automakers. However, this year's slowing growth does not bode well for the industry.
The association said the sport utility vehicle segment was the only one that grew, with sales rising 11.1 percent over a year ago to 684,400.
SUVs are popular with Chinese families who see them as safer, and their sales help automakers offset falling demand for sedans, which contracted 7.7 percent last month, and minivans, which shrank 20 percent.
Sales of Chinese-brand vehicles fell 1.9 percent to 733,000.
Among foreign carmakers in China:
— General Motors Co. said sales of GM-brand vehicles by the company and its Chinese partners slipped 1.9 percent in April from a year earlier to 272,770. Deliveries of SUVs, minivans and luxury cars rose 14 percent.
— Ford Motor Co. said sales grew 11 percent to almost 94,000, with sales of its luxury Lincoln brand nearly doubling to 4,500.
— Nissan Motor Co. sales rose 9.5 percent to 105,324 vehicles.
— Toyota Motor Co. sales rose 7.2 percent to 108,300.
— BMW AG sales, including Mini and Rolls-Royce brands, jumped 12.4 percent to 142,958.