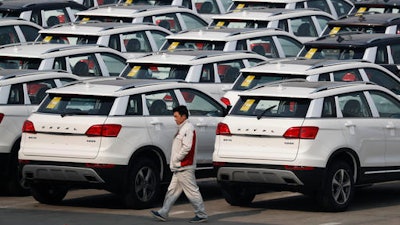 AP Photo/Andy Wong
BAODING, China (AP) — Wei Jianjun is the chief matchmaker in China's love affair with the SUV.
A decade ago, the chairman of Great Wall Motors Ltd. saw opportunity as the bulky vehicles began shedding their image in China as a farm tool. Wei cut back on making sedans and poured resources into its fledgling line of Havals.
That gamble paid off as SUVs caught on with drivers who saw them as the safest ride on bumpy, chaotic streets. By 2013, with demand surging, Great Wall had become China's most profitable automaker and Wei was a billionaire.
Now, Wei wants to make the Haval a global brand. It's an ambitious goal that requires advances in safety and features for a company known until now mainly for low prices. Great Wall sells Havals in Australia, Italy and Russia, but exports were less than 5 percent of last year's output of just under 1.1 million units.
"By 2020, we hope Haval can become the world's biggest specialty SUV brand," Wei said at a reception at Great Wall headquarters in this city southwest of Beijing to celebrate sales passing the 1 million mark.
That "globalization strategy" includes working toward meeting American safety standards, Wei said. But he gave no indication when Haval might export to the United States or major European markets such as Germany.
Great Wall is part of a cadre of small but ambitious independent Chinese automakers that grew in the shadow of state-owned giants such as Shanghai Automotive Industries Corp., which assembles vehicles for General Motors Co. and Volkswagen AG.
Without foreign joint-venture partners, the independents created their own brands and started exporting to Africa and Latin America.
Geely Holding Ltd., which owns Sweden's Volvo Cars, plans to start U.S. and European sales of its new Lynk & Co. brand in 2019. BYD Auto, the world's biggest-selling electric car maker, supplies battery-powered buses and taxis in the United States and Europe. Great Wall opened a European assembly plant in Bulgaria in 2012. It has similar facilities with local partners in Russia, Indonesia, Iran, Egypt and Ecuador.
SUVs have an outsized role in China, where their popularity has helped offset sagging demand for sedans and other vehicles.
Sales of domestic brand SUVs soared 58 percent last year to 5.3 million units out of total sales of 24.4 million in the world's biggest auto market. They are growing fastest in the lowest price ranges, dominated by Haval and Chinese rivals. That has helped Chinese brands to claw back market share they were losing to global competitors.
The top seller was Haval's flagship H6, starting at 89,000 yuan ($12,900), which has become China's most popular vehicle to date. H6 sales surged 55 percent last year to 580,000 units while the overall market grew 15 percent.
"They are definitely one of the most successful car companies in China," said Yale Zhang, managing director of Automotive Foresight, a research firm.
"This company has some very special strengths," Zhang said. "Of course, it also has weaknesses, because their products are focused on one model. But they are correcting that. They have tried very hard to cultivate another star product."
Great Wall's 2016 profit rose 31 percent to 10.5 billion yuan ($1.5 billion) on revenue of 98.6 billion yuan ($14.4 billion). Wei, 52, ranked No. 36 on the year's Hurun List of China's richest entrepreneurs, with a fortune estimated at $5.9 billion.
Begun in the 1980s as a collective that repaired and modified vehicles, Great Wall was bleeding cash when Wei, then 26, left his father's business making industrial machinery and signed a deal in 1990 to take it over and share profits with the collective's members.
The company launched a sedan in 1993. Its popular Deer brand pickup trucks were its first hit, in the late '90s.
Its CEO, Wang Fengying, is a former saleswoman who worked her way up the ranks, becoming the first woman to lead an automaker a decade before GM Chairman and CEO Mary Barra.
Wei has a reputation for military-style discipline.
"He wants a quick decision and a thorough execution," Zhang said. "This style is very different from large automotive companies, which can be a huge bureaucracy. This company definitely doesn't have that weakness."
Most of Great Wall's 60,000 employees work at its Baoding factory complex, a 13-square-kilometer (5-square-mile) mini-city of assembly lines and workshops in long, pale yellow two- and three-story buildings.
A test track that wraps around the complex is banked to allow drivers to push vehicles to over 200 kph (125 mph).
"It's an orderly, organized, very disciplined operation," said Bill Russo, managing director of research firm Gao Feng Advisory. "You think, this isn't China; this is what I would expect to see in Switzerland or Germany."
Wei has emphasized product quality, in one case hiring Korean auto industry veterans to show Great Wall how to make better body panels, according to Russo, a former Chrysler executive. That has paid off by raising Haval's image from entry-level to a mass-market brand that can charge higher prices.
"They have cracked that glass ceiling," said Russo. "Their quality level is better than the basic Chinese car companies."
Still, Great Wall's market is increasingly crowded as Chinese rivals roll out dozens of new SUVs. Global brands including VW and GM are preparing to invade Haval's segment with their own low-cost models.
Competitive pressures have reached a "deep red level," Wei said.
The company is responding by trying to move up-market.
Haval opened a Shanghai design studio in 2013 and a Technology Center in Baoding, housed in a sleek glass tower with reflecting pools and a 23-story lobby. It includes engineering workshops, a wind tunnel and a low-pressure chamber that can mimic operating conditions up to 5,000 meters (16,500 feet) in altitude.
In November, Great Wall unveiled a premium brand, Wey, an alternate spelling of Wei's name. It has yet to say how it will attract buyers to models expected to be priced above 200,000 yuan ($29,000).
Haval has struggled to lure drivers to its higher-priced models, such as its top-of-the-line H9, a seven-seater starting at 210,000 yuan ($30,600), that sold just 11,500 units last year. The H8, another full-size model, sold only 7,500 units.
In November, the company rolled out an updated H6, designed by a 50-member team led by Pierre Leclercq, a Belgian-born BMW veteran.
"The H6 is an extremely important product for us," said Leclercq, the company's senior vice president for design.
The company's next rising star is the H2, a four-seat compact SUV that sold 197,000 units last year. But it starts at 87,000 yuan ($12,700), a step down in price instead of toward a higher market segment.
Great Wall also faces pressure from Chinese government rules that require improved fuel efficiency by 2020. That will hurt brands such as Haval that lack smaller models to improve the average of their product lineup.
In response, Great Wall has developed an electric car, the C30 EV, a compact sedan it says can go 200 kilometers (120 miles) on one charge. The company has yet to say when it might go on sale.