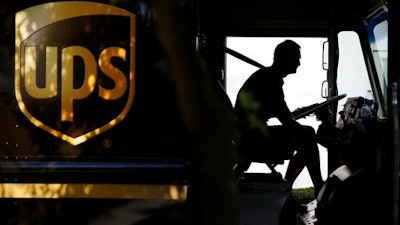 AP Photo/David Goldman, File
NEW YORK (AP) — A federal judge ruled Friday that UPS ignored "red flags" that its brown trucks were being used to transport untaxed cigarettes from Indian reservations, but stopped short of imposing a $873 million penalty that regulators sought in the civil case.
U.S. District Judge Katherine B. Forrest in Manhattan found Atlanta-based United Parcel Service Inc. liable in a 2015 lawsuit filed by New York City and New York state that accused it of having a corporate culture that favored sales opportunities over a responsibility to following regulations helping New York enforce tax law.
UPS, the nation's largest delivery company, "knew that certain customers were high risk — indeed, at times it said so," Forrest said in a written decision. "UPS had the means to monitor and discover regulatory violations, and there were red flags aplenty."
The judge called internal UPS documents alone, including employees' emails, expressing unease about the shipments of tobacco, as "sufficient to support UPS's liability." But she went further, finding there was proof of "a corporate culture that broadly accepted non-compliance."
The judge faulted the plaintiff for failing to come up with a convincing damages computation. Further information about the number of cigarette deliveries was needed to determine a penalty, she wrote.
In a statement, New York Attorney General Eric T. Schneiderman called the decision "a win for New York and a win for public health."
UPS spokeswoman Susan Rosenberg said the company was still evaluating the decision, but was "pleased" the judge rejected a plaintiff demand to appoint a monitor to oversee its revamped compliance program.
The suit alleged that tobacco retailers located on upstate reservations were given price discounts for shipping in volume, that delivery drivers were allowed to accept iPads and other gifts from shippers and that account executives, whose compensation was tied to keeping big accounts, ignored signs that some customers signing delivery contracts dealt in cigarettes.
One UPS customer, Seneca Promotions, operated from the same single-family home near Lake Erie as a well-known cigarette shipper, Native Wholesale Supply, and was sending tens of thousands of pounds of packages to businesses with names such as Tobaccoville and Tobacco Town, according to records filed in the court case.
UPS argued it followed the rules and can only do so much to police what its 1.6 million daily shippers send in sealed packages. In its legal filings, its lawyers said the city and state have offered no proof it "knew or consciously avoided knowing that any shipper was shipping cigarettes."
The state and city impose some of the highest taxes on cigarettes in the country in an effort to halt tobacco use, which public health officials say kills more than 28,000 New York residents annually and costs taxpayers $10.4 billion in health care-related costs.
Native American reservations upstate have long been one way for smokers and black-market cigarette retailers to evade those taxes.
Despite years of enforcement efforts, some reservation cigarette businesses, which don't collect state tobacco taxes, are still shipping thousands of cartons of untaxed cigarettes annually to consumers.