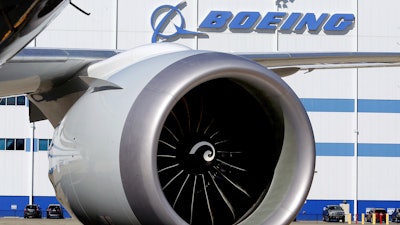 Brad Nettles/The Post And Courier via AP
DALLAS (AP) — Boeing beat Wall Street expectations for fourth-quarter profit despite a slump in revenue from its defense business. The company forecasts that deliveries of commercial airplanes will rise slightly in 2017 after slipping last year.
Boeing expects full-year earnings in 2017 to range between $9.10 and $9.30 per share, roughly in line with analysts' forecast of $9.25 per share. The company's revenue prediction fell short of Wall Street targets, however.
Boeing and European rival Airbus have boomed in recent years from global economic growth, better profitably among major world airlines, and a rise in travel in developing markets, especially Asia, all of which have raised demand for jets. Jet fuel prices spiked twice in the past decade, creating a rush for more fuel-efficient planes. And low interest rates made planes more affordable.
Both big plane makers have order backlogs that will last for years. However, they are likely to face more competition in the next few years for sales of their workhorse models, the Boeing 737 and Airbus A320. Canada's Bombardier and Russia and China are in various stages of delivering similar-sized, single-aisle jetliners.
And Boeing's government business could come under increasing cost pressure. Boeing predicted that 2017 revenue from its defense and space business could fall by up to 5 percent, including a drop in sales of military jets.
The company was stung last month when then-President-elect Donald Trump blasted the cost of replacing the Boeing 747 jumbo jets used as Air Force One presidential planes. "Costs are out of control, more than $4 billion," Trump tweeted. "Cancel order!" CEO Dennis Muilenburg visited Trump at Trump Tower to assure him the company will work to reduce the program's costs.
Boeing said Wednesday that net income in the fourth quarter was $1.63 billion, up 59 percent from a year earlier. Excluding certain pension expenses, the company said it earned $2.47 per share from its core businesses.
That surpassed Wall Street expectations. The average estimate of 18 analysts surveyed by FactSet and 10 by Zacks Investment Research was $2.34 per share.
Revenue fell one percent to $23.29 billion, which was better than the FactSet forecast of $23.13 billion but below the Zacks average of $23.45 billion.
For 2017, Boeing predicted that revenue will be between $90.5 billion and $92.5 billion with declines expected in both the commercial and defense sides of the business. The FactSet analysts expect $92.96 billion.
Boeing expects to deliver 760 to 765 commercial aircraft, which would be an increase over the 748 delivered in 2016. Boeing said it has a backlog of more than 5,700 aircraft with a sticker value of $416 billion, although airlines routinely get discounts.
Shares of Boeing were up $2.57, or 1.6 percent, to $163.12 in trading before Wednesday's opening bell. The shares have increased 3 percent since the beginning of the year, while the Standard & Poor's 500 index has climbed roughly 2 percent. The stock has climbed 29 percent in the last 12 months.