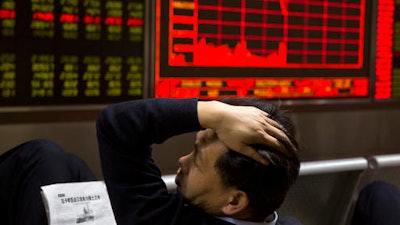 AP Photo/Ng Han Guan, File
BEIJING (AP) — China is preparing to retaliate if U.S. President-elect Donald Trump raises duties on Chinese goods and already has toughened its stance, an American business group said Wednesday.
Trump, who is due to be inaugurated Friday, threatened during his campaign to raise import duties on Chinese goods to 45 percent. American companies are frustrated by Chinese market barriers and want Washington to take a tougher stance toward Beijing, but worry reckless action might trigger retaliation.
Already, China has ordered unusually high anti-dumping penalties against a U.S.-made agricultural chemical.
"China has indeed threatened to and is preparing to take steps in retaliation if such actions take place," said Lester Ross, a board member of the American Chamber of Commerce, at a news conference.
In an implicit rebuke to Trump, Chinese President Xi Jinping emphatically defended free trade in a speech Tuesday at the World Economic Forum in Switzerland. A "trade war" would harm all countries involved, he said.
On Jan. 11, the Ministry of Commerce raised duties on DGGS, an additive for livestock feed, to up to 53.7 percent, nearly double the 33.8 percent rate it recommended in September before Trump was elected.
The ministry did not immediately respond to a request for comment.
Officials have not said publicly that China is preparing retaliatory measures but state media have emphasized its importance as a market for U.S. soybeans and other exports and warned against starting a "trade war."
Asked at a Jan. 6 news conference whether Beijing would retaliate by hiking import duties on U.S. goods, a deputy Chinese commerce minister, Wang Shouwen, said, "I believe mutually beneficial Sino-U.S. economic and trade relations will be further developed in the future and no one will destroy the win-win relationship."
The United States and China have one of the world's biggest and most complex trading relationships but American companies increasingly complain Beijing is blocking access to technology and other promising industries.
While Beijing has promised to open more industries to foreign companies, they also have issued new rules on electric car manufacturing, data security, internet censorship and other fields.
In a reflection of companies' concerns, the American chamber's chairman, William Zarit, said it plans to send seven or eight businesspeople to Washington in February to meet lawmakers and Trump administration officials. Zarit said that is in addition to a delegation that makes an annual visit to Washington in April or May because this year is "special in many ways."
"We certainly are not going there to lecture the administration but we will share our ideas on a win-win path forward," Zarit said.
In a report released Wednesday, the chamber said a survey found American companies are increasingly unhappy with what they see as unfair treatment in China.
"We would recommend that the U.S. be more aggressive in talks," Zarit said. However, he said, "We don't want to do things that are counterproductive to both countries."
The chamber said 81 percent of companies that responded to a survey feel "less welcome" in China, up from 77 percent last year. It said one in four is shifting operations to other countries due to concern about the regulatory environment, higher costs and other reasons.
"Most respondents say China's environment now discourages investment," the report said.
Communist leaders have promised to make China's state-dominated economy more productive by opening more industries to private and foreign competitors. In December, the Cabinet promised to open fields including banking and motorcycle manufacturing.
Zarit and Ross said foreign companies welcomed such announcements but have yet to see significant changes in operating conditions.
Beijing also faces U.S. and European complaints it is threatening thousands of jobs abroad by exporting steel, aluminum, solar panels and other goods at improperly low prices.
The American chamber said its survey found 83 percent of companies expect U.S.-Chinese ties "to remain the same or to deteriorate in 2017." It said the "big question" for them is "what steps both governments will take to ensure a positive business environment."
For their part, European companies also are increasingly frustrated with Chinese trade policy. They complain they are blocked from acquiring assets in China at a time when Chinese companies have bought leading brands including German robot maker Kuka in a multibillion-dollar global acquisition spree.
On Tuesday, German Ambassador Michael Clauss urged Chinese leaders to make good on promises to open wider to foreign investment and give foreign companies a "level playing field."
"Many companies keep telling us that their difficulties in these areas have increased," Clauss said in a statement. "It often appears that somewhere down the line, political assurances of equal treatment give way to protectionist tendencies."