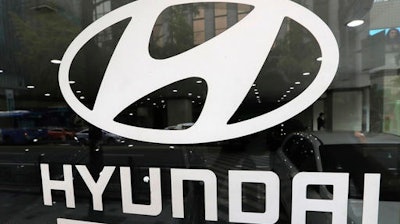 AP Photo/Lee Jin-man
SEOUL, South Korea (AP) — Hyundai Motor Group said Tuesday it will significantly increase its investment in the U.S. while Donald Trump is president and is considering building a new U.S. factory.
Chung Jin Haeng, a president of the world's fifth-largest automotive group, said Hyundai Motor, Kia Motors and their affiliated companies will spend $3.1 billion by 2021 on research and development and maintaining their factories in Alabama and Georgia.
That represents a 50 percent increase from the $2.1 billion the companies invested in the U.S. in 2012-2016. The increased spending comes mostly from research and development, as the South Korean maker of the Genesis and Tucson invests in artificial intelligence, autonomous driving, environmentally friendly cars and other future technologies.
Chung said Hyundai will study building a new U.S. factory if demand for cars rises during Trump's administration. The new administration's promise to create 1 million jobs and attract new companies could stimulate demand for cars and other products, he said.
"If there is such a sign, we will immediately review (the new plant)," he told reporters. "We won't miss when the time is right."
Hyundai did not provide any further details about a possible new plant.
The South Korean group does not usually disclose its five-year investment plan for specific countries, and the announcement of the U.S.-specific investment plans comes just a few days before the president-elect takes office on Friday.
Since Trump won the election, he has badgered auto companies about building their cars in the United States rather than Mexico.
The South Korean automotive conglomerate has not yet drawn public attention from the president-elect, who threatened to impose a border tax on vehicles made in Mexico by Ford Motor Co., General Motors Co. and Toyota.
Automakers have responded to Trump's threat by affirming their commitment to the U.S. market. Earlier this month, Ford announced it had scrapped plans to build a new $1.6 billion small-car factory in Mexico while Fiat Chrysler announced a $1 billion investment plan in its two U.S. factories.
Nearly all automakers build small cars in Mexico to take advantage of its lower wages.
Hyundai is not an exception. When Kia's first Mexico plant launched operations just two months before the Nov. 8 election, the group said about 80 percent of the vehicles assembled there will be exported mainly to the United States and other countries. The plant has a capacity to turn out 400,000 cars per year.
That Mexico plant is now "a source of worry" for the carmaker, Chung said, without elaborating why. He said Hyundai does not plan additional investments in Mexico.
He denied that political pressure was behind the company's announcement of its U.S. investment plan.
"The U.S. market is strategically important for us," he said. "Success or the failure in the U.S. market is a measure of global success."