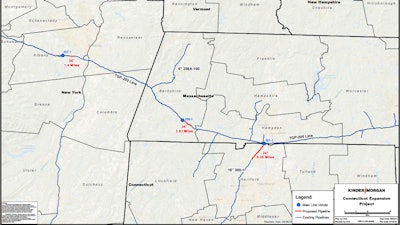 Kinder Morgan
SANDISFIELD, Mass. (AP) — A company that wants to run a natural gas pipeline through a Massachusetts state forest has agreed to pay $1.2 million for the right.
The agreement announced Thursday settles a lawsuit brought by Tennessee Gas Pipeline Co., a subsidiary of Kinder Morgan. The company wants an easement through Otis State Forest in Sandisfield to expand an existing pipeline.
The federally-approved Connecticut Expansion Project extends existing pipeline infrastructure in Massachusetts, New York and Connecticut, adding 4 miles of new underground pipeline in Massachusetts.
The settlement includes $300,000 for the Massachusetts Department of Conservation and Recreation to acquire additional conservation land in the area; $300,000 toward mitigation and improvements to the forest; $40,000 for the fair market value of pipeline easements; and an additional $640,000 for environmental monitors and other mitigation.