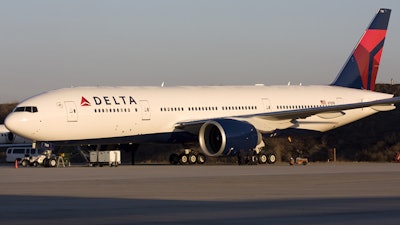 NEW YORK (AP) — Warren Buffett is changing his mind about airlines and buying stakes in several major carriers, including American Airlines Group, Inc. and Delta Air Lines, Inc.
The billionaire investor has famously avoided the volatile sector in the past, although his Berkshire Hathaway does own NetJets, which sells partial ownership interests in business jets.
Buffett disclosed the new investments, which also include United Continental Holdings, Inc., Monday in filings with the Securities and Exchange Commission. He purchased 21.8 million shares of American, 6.3 million Delta shares and 4.5 million United shares.
The regulatory filing lists his investments as of September 30.
In separate statements, Atlanta-based Delta and Fort Worth, Texas-based American both said they welcome the investment.
The investments were announced the same day Moody's Investors Service lowered its outlook for the global airline industry to "stable" from "positive." Moody's said the airline sector's operating margins and operating profits are expected to decline in the next 12 to 18 months as capacity continues to outstrip demand.
"For U.S. airlines, a combination of slightly higher fuel costs and higher labor costs at American Airlines, Delta Air Lines, Southwest Airlines and United Continental Holdings will contribute to a 20 percent contraction in operating profits over Moody's outlook horizon," the ratings service said.
Berkshire Hathaway Inc., based in Omaha, Nebraska, already owns more than 90 subsidiaries, including clothing, furniture and jewelry firms. It also has major investments in such companies as Coca-Cola Co. and Wells Fargo & Co.
Shares of the three carriers rose at least two percent in after-hours trading.