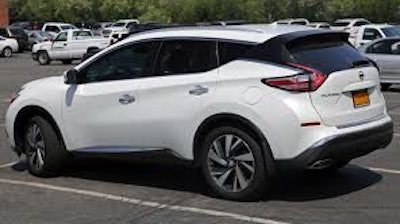 BEIJING (AP) — China's auto sales accelerated in September, propelled by surging demand for SUVs and lower-priced Chinese brands, an industry group reported Wednesday.
Sales of cars, minivans and SUVs in the biggest market by number of units sold rose 28.9 percent over a year earlier to 2.3 million, up from August's 26.3 percent growth, according to the China Association of Automobile Manufacturers.
Total vehicle sales including trucks and buses rose 26.1 percent to 2.6 million.
Chinese auto demand plunged last year, jolting global brands that look to this country to drive revenue growth. The market rebounded after a sales tax cut but analysts expect growth to drop back to single digits when that cut expires at the end of the year.
Sales of SUVs, seen as a safe family vehicle on China's rough roads, soared 54.2 percent to 879,000 units, according to CAAM.
Chinese brands grew faster than the market, clawing back more market share from bigger, richer global rivals on strong demand for lower-priced sedans and SUVs.
Sales by Chinese automakers rose 39.1 percent to 975,000 vehicles. Their market share grew by 2.4 percentage points over the previous month to 42.7 percent.
General Motors Co. said sales of GM-brand vehicles by the company and its Chinese partners rose 16 percent to 343,773. Total sales for the first nine months of the year rose nine percent from the same period of 2015 to 2.7 million. GM said sales by its Cadillac luxury unit rose 63 percent to 12,539 units.
Nissan Motor Co., the most popular Japanese brand in China, said sales rose 26.3 percent to 123,600 vehicles. Year-to-date sales rose 8.2 percent to 1.3 million.
Ford Motor Co. said sales rose 24 percent to 109,277 units. Year-to-date sales rose 11 percent to 879,559. Toyota Motor Co. said sales rose 11.2 percent to 104,200 vehicles. Sales for the first nine months were up by a similar margin at 890,000.