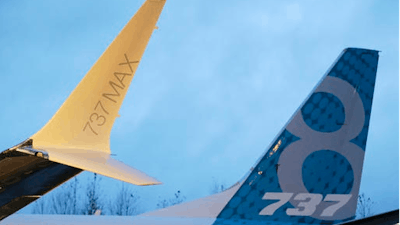 AP Photo/Ted S. Warren, File
WASHINGTON (AP) — U.S. factories saw slightly fewer orders for big-ticket manufactured goods in August, with a decline in aircraft orders accounting for the modest slip.
Orders for durable goods were nearly flat in August, with an $85 million fall from July to $226.9 billion, the Commerce Department said Wednesday. The tick down mostly stemmed from a steep 21.9 percent drop in the volatile category of commercial aircraft.
American manufacturers have seen demand weaken this year, a drag for the overall economy. The strong dollar has hurt exports while lower energy prices have reduced orders for equipment and pipelines. Total orders have slipped 0.6 percent so far this year to $1.8 trillion.
Still, a critical category that reflects business investment — and excludes aircraft — advanced 0.6 percent for the third straight monthly gain. The increase in this capital goods category could be evidence that business investment is recovering after massive cutbacks earlier this year.
Factories have been mired in a slump, and there are other reports that indicate lingering problems.
The Federal Reserve reported that factory productivity fell 0.4 percent in August. Makers of appliances, home electronics and machinery all pulled back. This slowdown has led factories to shed 30,000 workers in the past year. A broader measure of industrial output, which includes mines and utilities, also dropped 0.4 percent, the Fed said.
The Institute for Supply Management said this month that its manufacturing index dropped to 49.4 in August from 52.6 in July. Any reading below 50 signals contraction.