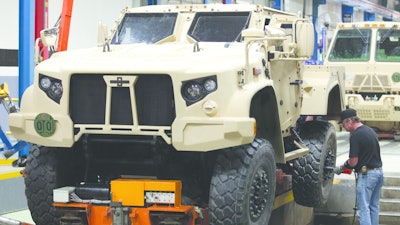 Oshkosh Defense has announced that the U.S. Army has placed a $42 million order that exercises available options for the Joint Light Tactical Vehicle
(JLTV)
program, including vehicles, installed kits and packaged kits. The order is the third since the contract was awarded in August 2015. Work will be performed in Oshkosh, Wisconsin with an estimated completion date of November 2017.
"This latest order demonstrates that the JLTV continues to be a central piece of the Army's future ground force and a modernization priority," said Dave Diersen, Oshkosh Defense vice president of Joint Programs. "The JLTV program is moving forward with a focus on giving Soldiers and Marines the next generation light vehicle they need for their missions."
The JLTV program will replace 55,000 of the U.S. Army and Marine Corps' uparmored HMMWVs. The JLTV designed and manufactured by Oshkosh delivers networking and off-road mobility in a light vehicle package to support Soldiers and Marines. Designed with room for growth as threats evolve, the JLTV's scalable design is able to adapt to future requirements.
The Oshkosh JLTV is also outfitted with an EOS R-400S-MK2 remote weapon system integrated with Orbital ATK's M230 LF 30 mm lightweight automatic chain gun.