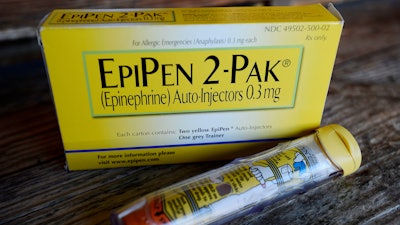 AP Photo/Mark Zaleski
NEW YORK (AP) — Mylan, in the face of heated criticism over price hikes for its EpiPen emergency allergy treatment, is bulking up programs that help patients pay for the drug.
The generic drugmaker laid out a plan to expand its patient assistance program and offer $300 savings cards for its EpiPen 2-Pak. There is no change in the price of the treatment, however, which is what has drawn ire both in Congress and from families that have had to shell out increasingly large sums for the potentially life-saving treatment.
Mylan has hiked prices for EpiPen as frequently as three times a year over the past nine years. A two-dose EpiPen package cost around $94 nine years ago but has climbed more than 600 percent to an average cost of $608 in May, according to the Elsevier Clinical Solutions' Gold Standard Drug Database.
Mylan did not immediately return calls from The Associated Press early Thursday about the drug's price.
Mylan N.V. said it's doubling eligibility for its patient assistance program, which it said will get rid of out-of-pocket costs for uninsured and under-insured patients and families. It also noted that the $300 savings card will cover about half the cost of patients who would otherwise have to pay the full list price.
Patients will also be able to order the injected emergency medicine for severe allergic reactions directly from the company, to help lower costs, Mylan said.
Democratic presidential candidate Hillary Clinton and members of Congress from both parties have been calling on Mylan to address the pricing.
Pharmaceutical and biotech industries can fuel American innovation, and combat debilitating diseases, Clinton said in the statement Wednesday. But she added that "it's wrong when drug companies put profits ahead of patients, raising prices without justifying the value behind them."
Last year, more than 3.6 million U.S. prescriptions for two-packs of EpiPens were filled, according to data firm IMS Health. That earned Mylan nearly $1.7 billion.
EpiPens are used in emergencies to treat severe allergies that can lead to anaphylactic shock. Roughly 40 million Americans have severe allergies to spider bites, bee stings and foods like nuts, eggs and shellfish.