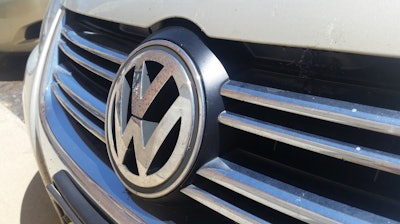 BERLIN (AP) — A legal dispute between Volkswagen and two suppliers has forced the carmaker to suspend production of some models, affecting nearly 28,000 workers and drawing calls from the German government for a quick solution.
Volkswagen said last week that it would have to suspend production of the Golf and Passat at the Wolfsburg and Emden plants in Germany for around a week because the suppliers weren't delivering parts.
On Monday, the company put at 27,700 the number of workers affected by the dispute at six plants in Germany. It said it was "making arrangements for various flexibilization measures extending as far as short-time work."
Volkswagen and the German-based suppliers were expected to hold talks Monday.
"I can only encourage all involved not to let it drag on," Lower Saxony state economy minister Olaf Lies, who sits on Volkswagen's supervisory board, told Deutschlandfunk radio.
"We assume and also expect that the companies concerned can resolve the open questions as soon as possible," German Economy Ministry spokesman Andreas Audretsch said in Berlin. They face "a high level of responsibility to tackle and solve these problems as constructively as possible," he added.
The dispute pits Volkswagen against suppliers ES Automobilguss and Car Trim, and affects supplies of gearbox parts and seat covers. Details of what exactly triggered it are unclear.